What do you consider to be surfing essentials? No doubt among them is a good, sturdy functional bag that gets to be your constant companion in your surfing exploits. How do you know the best one to get? We have done the groundwork for you. Here are the best dry bags and backpacks with great features and awesome quality currently available in the market.
Add a header to begin generating the table of contents
What is a dry bag? How is it different from a normal backpack?
Dry bags and backpacks are bags that have a waterproof compartment for the storage of wet surfing gear and other essentials. This ensures that the surfer is able to keep things like clothes, electronics, and books dry in the other compartments.
Dry bags are often made of waterproofed fabric, plastic coated fabric like cordura or plastic to make it waterproof. They are put together by sewing and using seam tape to make them watertight, welding and gluing. They are waterproof with a select few even being submergible.
Surf packs have additional features like pockets to store accessories like fins, leashes and wax, and even compartments for food and drink.
A surfing dry bag or backpack will definitely improve your whole surfing experience and is as such a worthwhile investment.
How do you pack a drybag?
When packing your drybag, ensure everything goes into its designated pocket. Then ensure the roll top closure is folded at least three times, to create a watertight seal. If the dry bag has a zipper, ensure it is well secured to ensure non-leakage. It is also important to ensure that you do not mix wet and dry items because this could lead to damage of items meant to stay dry, not to mention self-loathing.
And now to the review of the bags.
Best Dry Bags for Surfing
Here are our top 2 choices.
Our Choice
Patagonia - Stormsurge Sling 20L
Patagonia's Stormsurge Sling 20L is one of the higher priced dry bags coming in at $229.00 and it's easy to see why. It is both superior in functionality and design. Made in the Philippines, this bag is very lightweight at 1 lb. 8 oz. It is made of a burly nylon core with TPU coating that makes it 100% waterproof and durable.
While its grab handle makes it easy to grab and dash, it has a super comfortable fully adjustable, low-profile, padded shoulder strap that carries over the right shoulder, making carrying even particular heavy gear a breeze. It has multiple external lashing options that allow you to stash your other surfing gear with side utility keepers which offer easy attachment to avoid piercing the fabric.
It's 100% waterproof TIZIP® zippers allow for quick access and safe storage of items you wish to stay dry like your phone, clothing and cameras.
It is important to note that Patagonia products come with an iron clad guarantee. We are fans of Patagonia for both their products and their philosophy.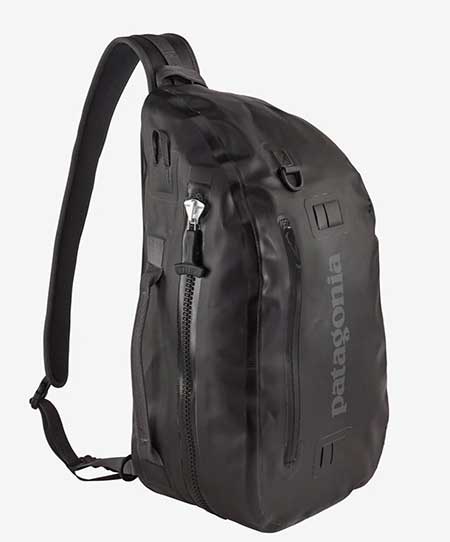 Runner Up
Dakine - Mission Surf 25L Backpack
Dakine's Mission Surf 25L Backpack comes in at number two on our list, and it's easy to see why. This is a dry bag that is both functional and affordable. At only $74.95, it gives reasonably good features.
Made of 600D Polyester, it has a waterproof, seam-sealed pocket to store your wetsuit, an organizer pocket that big enough to fit a few books or a laptop and side pockets for accessories.
Its ergonomic shoulder straps with breathable birds eye mesh make carrying your stuff easy and comfortable. It even has a fleece-pocket to fit in fragile items like your sunglasses.
Its capacity of 25L is reasonable with makes it a very practical dry bag for the practical surfer.
Other Dry Bags for Surfing
Other dry bags that are of good quality and great features to consider for your surfing adventures are:
Patagonia - Stormsurge Pack 30L
Made of 100% nylon with a single-side TPU coating and a water resistant finish, this bag is durable, water proof and submersible. It weighs 11.7 lbs and has a slightly larger capacity than the two bags we've reviewed above, this bag will allow you to carry a little more stuff.
Its comfortable, padded shoulder harness and removable waist support makes it almost effortless to carry. It has two web loops to allow for attachment of other surf gear and side utility keepers.
Though it has a higher price range of $299.00, it is definitely of superior quality, which is what we expect from Patagonia.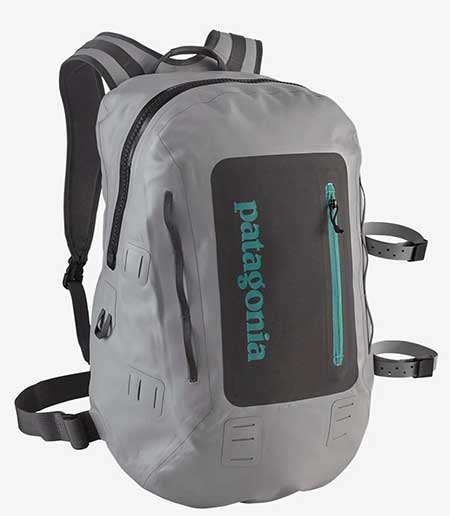 Patagonia - Stormsurge Hip Pack 10L
The Stormsurge Hip Pack 10L from Patagonia is a fully welded and 100% waterproof-submersible dry bag that will keep your stuff nice and dry even in the foulest of conditions.
Like the other Patagonia bags on our list, it is made of burly nylon with a single side TPU coating and a water repellent finish secured by waterproof zips.
Unlike the rest, its capacity is much smaller and it is not built for heavy use. It is secured around the waist by a low-profile hip belt. It also has a padded neck strap to help handle large loads and distribute the weight. It has lash straps at the front and utility keepers for safe attachment.
It comes at $199.00 and is great for light, secure use.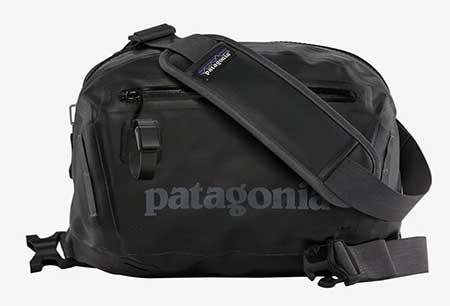 Patagonia - Storm Front Roll Top 45L Backpack
The Storm Front Roll Top 45L Backpack from Patagonia is built to last. It is both durable and high quality. It's what we would describe as heavy duty. If you are a hardcore surfer with a lot of gear and gadgets and you are always in the water, this is the bag for you.
This bag is reasonably priced at $149.00. Though it is non-submergible, its other features make it absolutely worthwhile. It has a low-profile shoulder harness which is very comfortable for any weight.
It has a really long top that creates a lot of room where you can pack loads of gear and still manage to close it properly. It has fully welded seams and is water repellent. It is also compatible with the convertible vest sold separately.
Together with having all the usual slots for your valuables, wax and fins, this dry bag also has external web loops that you can use to secure items for both surfing activity or for other activities such as fishing or camping.
Dakine - Cyclone II Dry Pack 36L
Made with surfing in mind, the Cyclone II Dry Pack 36L from Dakine combines utility with the practicability of travel. Its relatively huge capacity of 36 liters allows you to haul around both your gear and other essentials. It has a roll-top closure and welded design that make it both waterproof and flexible. It has both ergonomically built shoulder straps and a sternum strap that make for an easy carry. This bag has an integrated board carry system which will free up your hands and a laptop sleeve with exterior pockets adding to its utility.
Though it might not have a lot of bells and whistles, its features are definitely well thought out and great for surfing.
Channel Islands - Pony Keg Pack
This dry bag from Channel Island is a longtime favorite. Though it weighs only 2.4 lbs., it has a 45L capacity with one compartment that is pretty large in which to stash all your surfing stuff. It has external pockets and waterproof zippers to keep your smaller essentials dry.
At $108.00, it is a very simple, uncomplicated bag that works.
Channel Islands - Essential Surf Pack
This is a great surfing dry bag because it was designed with the surfer in mind. Made of 600D polyester and nylon, this dry bag has a roll- down waterproof compartment, accessory organizers for your wax, sunblock, fins and other accessories, 2 water bottle pockets, a sunglass pocket lined with fleece, external pockets and a hanging loop.
Channel Island's Essential Surf Pack It has plenty of room as its capacity is 42L and it weighs 3.25 lbs. At $128.00, it is quite affordable and will definitely improve your surfing experience.
Channel Islands - Dry Pack Lite
The Dry Pack Lite is another dry bag from Channel Islands. This bag has a 30L capacity with a courier strap. It is quite light at 1.5 lbs., and has a roll- top closure which enables you to stuff in all your gear and other surfing essentials. Its heat welded seams make it absolutely waterproof and it also has welded webbing loops to secure other items on.
This is a simple, compact solution and is the cheapest bag we have reviewed so far, at $76.00, so if you are on a budget, this is a good place to start.
Rip Curl - Ventura 2.0 Surf Backpack
Another affordable option, is the Ventura 2.0 dry bag from Rip Curl. It has a 30 liter capacity and is made from water resistant TPE coated polyester. With a roll & clip wet section, you can carry your wetsuit and other accessories comfortably. Its deep front pocket, padded back panel, mesh organizers are great for packing personal items like sunblock and water bottles, and its air mesh shoulder straps complimented by a sternum strap are ideal for comfortable carrying.
Priced at $69.95, it is practically a steal.
Rip Curl - F-Light Surf Backpack
This is an ultra-lightweight travel dry bag that will allow you to stash your surfing gear and other essentials into. Its humongous 40L capacity ensures you carry every little thing you need.
It has a large insulated wet compartment with a different spacious dry pocket that has a laptop sleeve to accommodate your valuables and clothes. On one side, it has a 1ltr water bottle holder that is insulated, on the other a wax/sunscreen pocket.
At only 3lbs, this bag hides all its extra pockets in light material reinforced on the inside. It also has a specialized fin holder, fleece glass pocket, compression cords and breathable, lightweight shoulder straps.
It is a lightweight yet extremely durable and functional dry bag. It costs $139.95, which is reasonable for all its functionality.
Mad Water - Waterproof USA Duffel Bag
Up until now, we have not reviewed a duffel bag. While backpacks and shoulder bags are easier to carry for an extended period of time, duffel bags are a quick fix to transportation issues. They are easy to pack and you can see everything in the bag at one glance.
The greatest advantage of this bag is that it is not only waterproof, it's also submersible and it floats. This makes it very versatile. These bags are designed for different activities and the Cool Grey range is tailor made for surfers.
Made of double-coated, heavy-duty PVC free polyurethane, they are very hardy. They come in 3 sizes, the 30L, 65L and 90L capacity and they are absolutely waterproof sealed with a YKK submersible zipper. Its price ranges from $114.00 to $189.00 which makes it quite affordable.
While it might not have glitz and glam, it's very practical especially if there's a chance of it getting into the water.
YETI - Panga Submersible Duffel
Made of thick TPU and high-density nylon, these dry bags are puncture- and abrasion-resistant, airtight and submersible.  They come in both roll-top and duffel options and have QuickGrab handles and the duffels feature removable shoulder straps which make them very portable. They also have a Hydrolok zipper with a U-Dock at the end that keeps all the water out.
While it has a great range of sizes, if you're travelling, 28L dry backpack or 50L dry duffel would be ideal.
These dry bags are a bit pricey, ranging from $299.99 to $399.99 but their quality is also excellent with enough space to carry your gear and flexibility on size.
SealLine - Baja Dry Bag
The SealLine Baja Dry Bag is an all-purpose dry bag that is PVC free. It's made with premium polyurethane-coating which makes it more puncture resistant and lighter than dry bags that are vinyl-coated.
It is both heavy duty and completely waterproof with fully welded seams and secure roll-top closure. These bags can withstand quick submersions and will float. There sizes are 5L, 10L, 20L, 30L, 40L, and 55L.
Tillak - Kiwanda 10Ltr Dry Bag
This is a light day bag for a light surfing trip that does not require lots of gear. At 10 liters, it'll probably only fit your wetsuit and a few other personal items. It is very handy, modern with a few extra features like adjustable/removable backpack straps and a water bottle.
Made from lightweight but heavy duty 500-denier polyester, it has an external zip pocket that allows you to keep your valuables safe and access them easily.
The Kiwanda 10-Liter Dry Bag is a small yet sturdy dry bag with a modern look and a few handy extra features. The bag is made from lightweight but heavy duty 500-Denier polyester, it has an external zip pocket that allows you to keep your valuables safe and access them easily. It also has removable/adjustable backpack straps and a water bottle pocket.
At a price of $20.95, this is an extra bag you can have for your lighter trips to the coastline.
Sea to Summit - Big River Dry Bag
This roll-top dry bag is extremely strong and abrasion resistant. Made of 420D nylon, its double stitched, tape sealed, reinforced seams make it waterproof. It has a white interior for better interior visibility and an oval base that ensures it doesn't roll off. It also has non-wicking roll top closure and lash loops to secure attachment and keep out moisture.
Though it is watertight, it should not be submerged into water. It comes in seven colors and has five sizes (in Liters): 5L, 8L, 13L, 20L, and 35L.
Need Essentials - Dry Bag
At $ 81.00, this is a dry bag that will offer you both practicability and comfort. Made from TPU, the wetsuit dry bag offers 30ltrs of storage. It has a roll top and buckle mechanism and its webbing and ruck sack flaps allow you to secure extra items like towels. Its seams are welded and the zippers are YKK aqua guard to ensure that it's fully water proofed and that the front pocket can safely protect smaller essentials like phones.
It's comfortable padded shoulder and back straps distribute the weight evenly making it an easy load to bear and the mesh has aeration holes to dispense of any heat build-up.
Due to its reasonable capacity, you will be able to fit your wetsuit in there comfortably with enough space for your other essentials.
O'Neill - Bromuda Bag
This compact, attractive dry bag is currently on sale for about $63.99.  It has a 35L capacity roll-top compartment which ensures you fit quite a bit with side fin and wax pockets. It also has a padded laptop compartment on the side and a passport pocket at the back panel.
Made of 100% polyester and premium mixed fabrication, this dry bag is waterproof but not submersible.