The Grom Life is an independent publisher. You will not find paid product promotions or sponsored content on this site. You will find affiliate links which means we may earn a commission if you purchase through these links.
Costco has earned a pretty impressive reputation in the surfing community thanks to affordable boards from brands like Wavestorm and Gerry Lopez.
But the quality and affordability doesn't end with surfboards.
America's favorite wholesaler also sells inflatable stand up paddle boards, and in this guide, we'll showcase the very best of them.
What is the Best Inflatable Paddle Board From Costco?
Costco has a few different paddle boards to choose from.
We've checked the boards, looked at the features, and scanned the reviews—here's what we think are the best SUP boards available at Costco right now.
All of the prices are accurate at the time of writing, but they are subject to change and may also vary by location:
1. Body Glove Tandem 15-Foot Stand Up Paddle Board – $599.99
The Body Glove Tandem SUP is arguably one of the best paddle boards available at Costco right now. You can also find a few great SUP options from Body Glove on Amazon.
As the name suggests, it's big enough for two, spanning 15-feet and holding up to 500 pounds.
The Body Glove 15-footer is made from PVC and is strengthened by a triple-layer stringer.
It can be converted into a kayak if needed and comes with an action camera mount.
2. Wavestorm 10'6-Foot SUP-KAYAK Paddle Board – $479.99
The Wavestorm surfboard has achieved a cult following in the United States and while the SUP version isn't as popular, it probably should be.
This sub-$500 board features an adjustable paddle, a collapsible seat, foot rests, and an easy-carry handle.
You'll even get a roof rack with your paddle board order.
3. Body Glove Performer 11-Foot Inflatable Stand Up Paddle Board Package – $399.99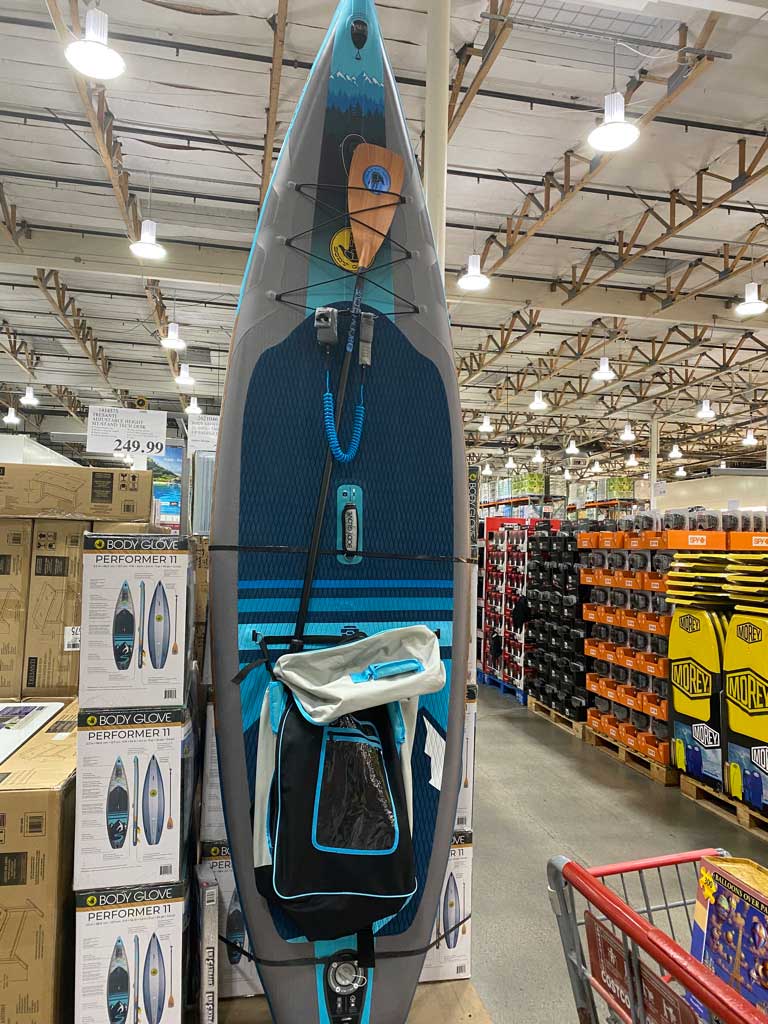 An affordable 11-foot stand up paddle board that features a triple-layer stringer, clear TEK drop-stitch, an action camera mount, and a carrying system that includes the paddle.
4. Body Glove Oasis 10-Foot Stand Up Paddle Board – $429.99
The Body Glove Oasis can hold up to 300 pounds and spans 10 feet, despite weighing just 22 pounds.
It's made from PVC, features an easy-to-carry system, and comes with a storage backpack.
5. Hyperlite Elevation 10'2-Foot Inflatable Stand Up Paddle Board – $399.99
A super lightweight stand up paddle board that features a dual-layer EVA pad to deliver a comfortable and soft feel.
Every order comes with a 12V electric SUP pump and yet it's available for less than $400.
It's a premium board for a not-so-premium price, making it the perfect option for buyers on a budget.
Are Costco Paddle Boards Any Good?
Don't let the low price fool you, there are some excellent stand up paddle boards at Costco.
They are made from premium materials and won't degrade after a few seasons.
You still need to take good care of them and follow the maintenance instructions, but these boards are fantastic quality and have received lots of great reviews over the years.
Should I Buy an Inflatable SUP From Costco?
If you need a new stand up paddle board, you can't go wrong with Costco.
You can grab a premium stand up paddle board for a few hundred bucks, leaving plenty of cash in your budget for a backpack, lifejacket, pump (if not included), and some warm, water-resistant clothing.
More About Inflatable Stand Up Paddle Boards