The Grom Life is an independent publisher. You will not find paid product promotions or sponsored content on this site. You will find affiliate links which means we may earn a commission if you purchase through these links.
"The premier lifestyle brand of the Surfer-Craftsman". That's how Almond Surfboards positions itself.
It creates timeless, handcrafted surfboards, including the excellent R-Series, and it focuses on eco-friendly processes and a personalized approach.
But is the Almond R-Series a good surfboard for the experienced surfer or beginner? Let's find out.
The Almond Surfboards R-Series
The R-Series is Almond Surfboards at its very best. It's a board that's suited to all styles of surfer.
There are three options to choose from, ensuring that all types of surfers are catered for:
5'4″ Secret Menu R-Series Board: Described as the "perfect blend of paddle-ability and rip-ability", the Secret Menu is a short board with a little more volume, giving you more control and stability when riding those waves.
6'4″ Pleasant Phesant R-Series Board: Catch waves with all the control of a mid-length board.
8'0 Joy R-Series Board: Perfect for small waves and inexperienced surfers. A great surfboard with super cool design options that will appeal to kids as well as adults.
The R-Series boards are made from a High Density Copolymer Foam and are available in several designs.
All of them are 100% recyclable and made in the United States.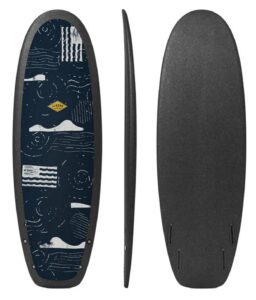 Almond Surfboards R-Series 5'4″ Secret Menu Surfboard Almond Surfboards on Evo
What Do Surfers Say?
The Almond Surfboards Costa Mesa surf shop has a wealth of positive user reviews, and it was hard to find anyone who had anything negative to say.
Of the bad reviews that we did find, the only concerning one came from a customer who ordered a custom board and was given something in a different color and finish to what they ordered.
However, the customer makes it clear that they were given several options, including a full refund, a rushed order to get the surfboard that they ordered, or to purchase the board at a discount.
All of those offers are very reasonable and it's clear that the guys at Almond Surfboards actually care about their work and customers.
No company has a flawless record. All companies make mistakes.
It's how they deal with those mistakes that sets the good from the bad and it seems that Almond Surfboards has been exceptional in dealing with the issues that have occurred.
About Almond Surfboards
Almond Surfboards launched back in 2007 with the goal of making long-lasting surfboards that will be passed down through the generations.
We live in a throwaway, materialistic society.
Many boards are manufactured cheaply and quickly.
It's about keeping the costs down and the numbers up, and so it's refreshing to see brands that do things differently.
Sustainability is key to the Almond Surfboards style.
Not only do they build boards that will last for years, ensuring you don't need to constantly repair and replace, but the Recycling Loyalty Program also ensures that Almond's boards are properly recycled at the end of their long life.
The Almond Surfboards Surf Shop
Almond Surfboards is operated by 5 friends who manufacture boards in California.
You can visit the Almond Surfboards surf shop at 1720 Santa Ana Ave in Costa Mesa, California.
It's a quaint little surf shop and it contains many boards in the Almond range.
To see what's available before you buy, take a look at the Almond Surfboards online store.
You can even buy online and collect at the CA retail store, although you will need to wait 5 to 7 days to collect.
Alternatively, you can order your new board online. Almond promises to get your board out of the door within 48 hours and ships everything via First Class Mail or USPS Priority.
Most orders are received within 1 to 4 days, depending on location.
Summary: Almond Surfboards Review
Almond Surfboards makes high-quality, long-lasting foam boards designed for serious surfers of all ages, sizes, and skill levels.
The boards are made in the United States and can be ordered directly from the Almond Surfboards website (along with a variety of accessories) or through the online Almond Surfboards shop.
It's a small brand with a big soul and it actually seems to care about quality, durability, and eco-friendly processes, as opposed to simply using these terms as marketing buzzwords.
There is a surprisingly wide variety of boards available for such a small brand, and you can also place a custom order to create a foam board that is just how you like it.