As per the Almond Surboard website, "Our new R-Series surfboard is an answer to the disposable, replaceable, returnable foam boards that are flooding local lineups lately."
As surfers, we love the ocean. We should take steps to doing our part. Almond Surfboards seems to have taken a big step in the right direction with their entire line of surfboards, not just their version of a foamie surfboard.
Almond Surfboards Reviews
This foamie looks like a ton of fun. We think we are going to get one just keep in the car. No really, it will go great with the towel and boards shorts we leave in the trunk.
Almonds Surfboards R-Series 5'4 Secret Menu Review
The R-Series is 5'4 long and 36L (that's liters, aka how well the board will float) and is make for for the for both paddle-ability and rip-ability.
The R-Series construction is the closest thing to a "cradle-to-cradle" surfboard we have seen. Almond Surfboards claim that materials used in the R-Series surfboards can—and will be—recycled at the end of the board's life, through through their Recycling Loyalty Program.
Almonds Surfboards R-Series 5'4 - Design specs
5'4" x 36.4 L
21" wide x 2 3/4" thick
Double Stringer
High Density Copolymer Foam
No-Wax-Necessary deck pad
Choice of 3 Graphic: Chart, Black, and Shakas
Futures Fin Boxes
100% Recyclable
Made in USA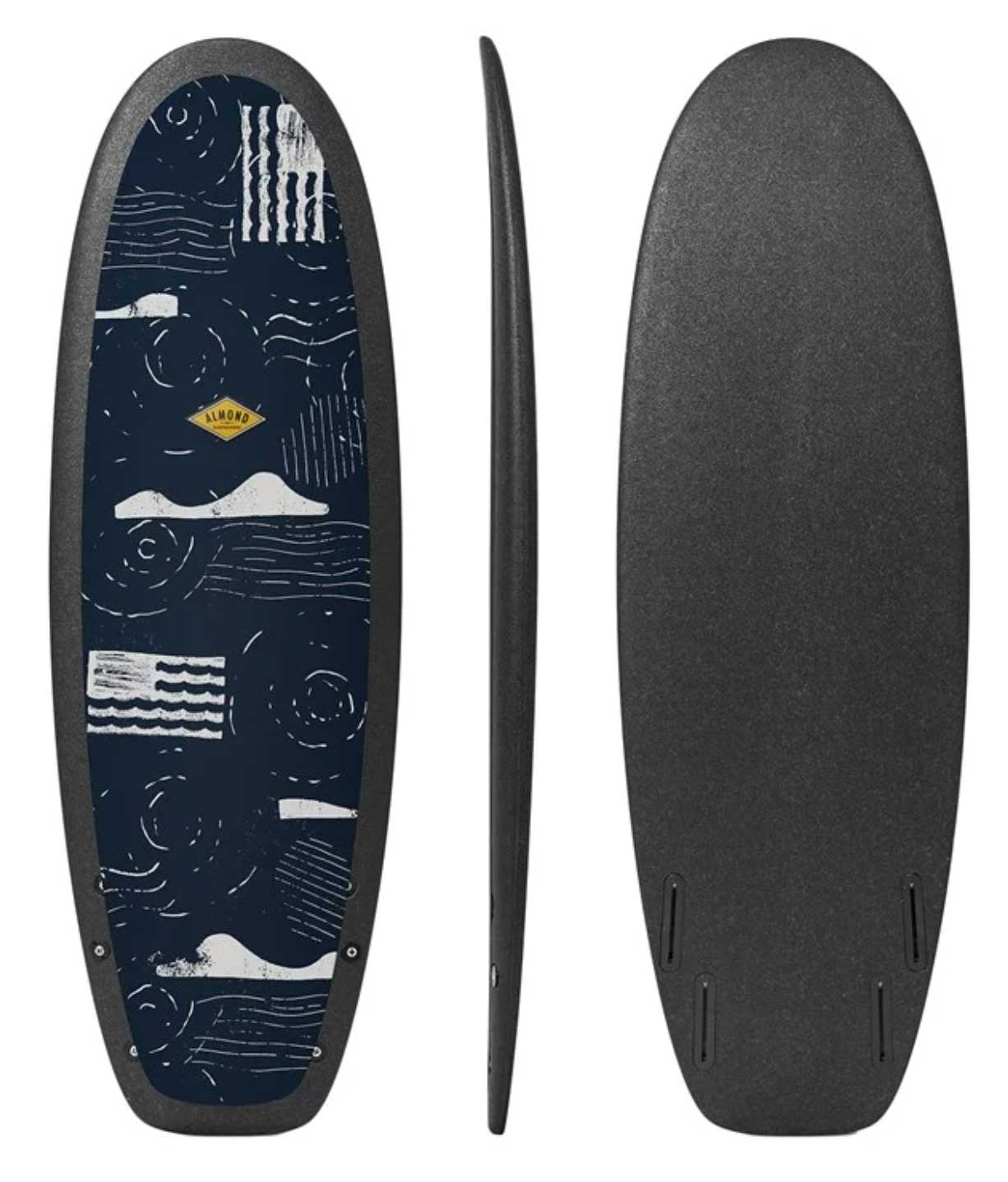 Who is the Almond R-Series Surfboard For?
The R-Series looks like a great surfboard if you care about your contribution to keep the environment better than how you found it. The board looks like it can serve a few differnt levels of surfers, from the new grom who can benefit from the buoyancy to the older grom who wants a board to throw in the car for those before and after work surfing sessions.
Almond Surfboards
1720 Santa Ana Ave., #A
Costa Mesa, CA 92627