The Grom Life is an independent publisher. You will not find paid product promotions or sponsored content on this site. You will find affiliate links which means we may earn a commission if you purchase through these links.
Sales of electric bikes are peaking right now, with more consumers investing in this technology than ever before.
They can be a little expensive, but they're also very useful, and once you've ridden an ebike, there's no going back.
In this guide, we'll look at the best ebikes on the market, answer the most commonly asked questions about them, and discuss why they are great for getting you to and from the beach for those surf days.
What is an electric Bike?
When you think of an electric bike, you probably picture something that looks like a scooter.
But they're not powered by gas and huge engines.
In fact, ebikes are basically just normal bicycles fitted with electrical components, and these components are so seamlessly integrated that the bike remains streamlined and relatively compact.
How Does an Electric Bike Work?
The purpose of an electric bike is to assist with pedaling and not necessarily to replace it (although that can happen if you want).
You pedal like you do with a bicycle, and the addition of a motor means that you can comfortably and effortlessly climb hills and cycle when you're tired.
How Long Do Electric Bike Batteries Last?
The type of battery and the amount of times it has been used and charged will determine how long it lasts.
However, batteries on electric bikes will generally last for between 2 and 5 years.
How Fast Can Electric Ebikes Go?
Most electric bikes are capped at 20 MPH with pedal-assist, others are capped at 28 MPH.
What are the Best Ebikes to Go to and From the Beach?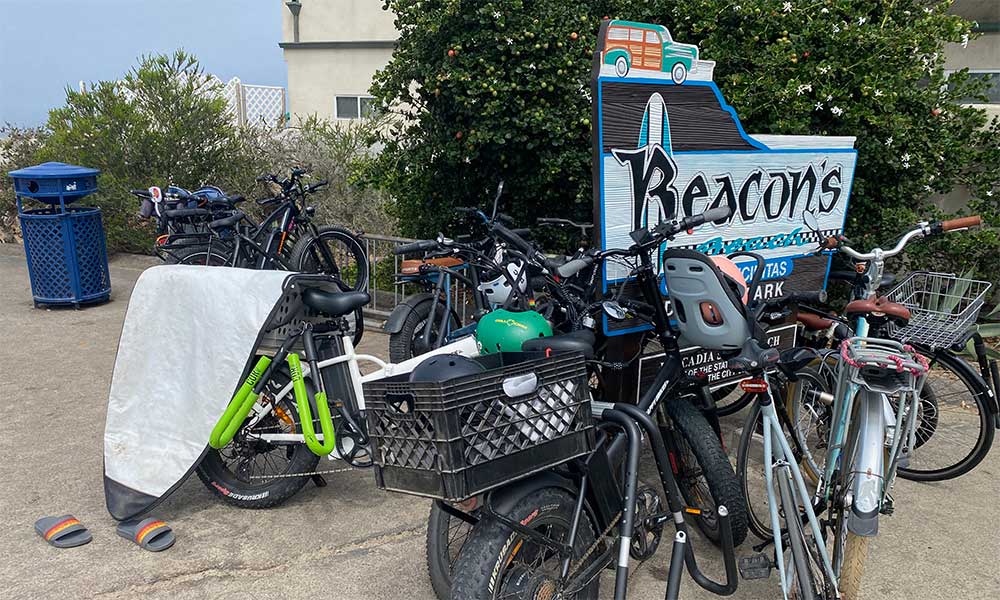 Electric bikes are a great way to get to the beach.
Whether you're surfing, swimming, or just relaxing on the sand, an electric bike will get you there with minimum fuss and exertion.
They are a little pricy, but if you're traveling a lot and have steep hills to climb and long distances to ride, they're worth it.
To help you in your search for the best electric bikes, check out our picks below:
Rad Power Bikes RadRunner Plus
The Rad Power Bikes RadRunner is one of the most popular electric bikes on the market, and not without reason.
The RadRunner Plus is currently available for less than $1,800 on the Rad Power Bikes website and it qualifies for free shipping from the company's base in Seattle.
It features a 750W motor and promises up to 45 miles on a single charge, with a total weight capacity of 300 lb. and a very sturdy build.
Rad Power Bikes also sells a variety of accessories and helmets, so make sure you check these out when you order.
The Propella 7-Speed
The Propella 7-Speed is one of the cheapest electric bikes on this list and is currently available for less than $1,300.
It's a solidly-built electric bike that uses surprisingly high-quality components, including disc brakes made by Shimano and a battery manufactured by Samsung.
Propella is a direct-to-consumer brand, which means you will need to buy it directly through the Propella website and may struggle to get it repaired elsewhere if it fails you.
If you want to save a couple of hundred bucks, take a look at the Single Speed option instead.
Batch E Bike
The Batch E Bike is a reasonably priced (around $2,000 to $2,200) electric bike that features a state-of-the-art drivetrain and hydraulic disc brakes manufactured by Tektro.
It takes 6.5 hours to charge and has a mile range of 30 and 80 with a top speed of 20 MPH.
It doesn't have the storage capacity or the slick style of some other electric bikes in this guide, but if you need something reliable that can cover large distances, this pedal-assist ebike is a great option.
Tern GSD S00 LX
The GSD series is a huge bike with a lot of space and a hefty weight capacity of 440 lbs.
The price may be a little high for most consumers as it's currently listed at around $6,500, but you get a lot for your money, including a lot of storage space and a smooth ride.
The rack on the Tern GSD doubles as a stand and despite offering lots of space, it's not too long, so it's surprisingly easy to store away.
The 500W battery can go up to 63 miles before it needs to be charged and it hits speeds of 20 MPH.
Do You Need a License for an Electric Bike?
Electric bikes are still new, so the laws haven't strictly defined them.
However, they are generally considered to be in the same category as manual-powered bikes and will remain in that category providing they do not exceed 20 mph and have a motor that is less than 750W.
Providing these terms are met, you shouldn't need a license to ride an electric bike.
The rules vary from state to state though, so be sure to check the local laws.
What is a Class 1 Ebike?
There are three classes of electric bike.
Class 1 describes an electric bike that is pedal-assist and has a maximum speed of 20mph, as noted above.
Class 2 are throttle-assisted but are still limited to 20mph.
Class 3 electric bikes have a maximum assisted speed of 28 MPH and are pedal-assist.
Can I Insure my Ebike?
Your electric bike may be insured on renters and homeowner insurance policies, but the protection is limited and may not cover you at all.
You won't be covered by your auto insurance company as electric bikes do not carry license plates and are not registered.
To check whether your ebike is insured, contact your homeowners or renters insurance provider.
If not, you can probably arrange for it to be added to your policy.
More About Biking With Your Surfboard