Foam surfboards and soft top surfboards (they are the same thing), starting showing up in the surfing line up about 5 years ago.
Today, they are everywhere thanks to Costco's cheap (and fun) Wavestorm soft top.
Things have progressed since Costco's first foam surfboard, the Wavestorm.
Soft tops are now so good in quality they rival the fun factor of the standard glass surfboard so much so, that both beginner and experienced surfers are riding them.
In fact, one employee we talked to at a well-known surf shop in San Diego said that most good surfers would have just as much fun on a foamie as they would on their performance board and might not even notice the difference.
Below are some of the best rated soft top and foam surfboards.
Catch More Waves. Have More Fun.
Foam Surfboards & Soft Tops on Amazon
| Photo | Title | Price | Buy |
| --- | --- | --- | --- |
| | Wavestorm 8ft Surfboard // Foam Wax Free Soft Top Longboard for Adults and Kids of All Levels of Surfing, Multicolor | $134.68 | |
| | Wavestorm 5'6 Original New Modern Swallowtail Surfboard | | |
| | South Bay Board Co. - 8' Beginner Surfboards - Safe Soft-Top Surfboards - Best Beginner Surfboards for Kids & Adults – Strong Triple Stringer Durability - Leash & Safe-Edge Fins Included | $279.00 | |
| | South Bay Board Co. - 7' Ruccus Premium Foam Surfboards - Wax-Free Soft-Top Surfboards - Best Beginner Surfboards for Kids & Adults – Fins & Leash Included - Patented Heat Damage Prevention System | $359.00 | |
| | KONA SURF CO. The 4-4 Surfboard for Beginners Kids and Adults - Soft Top Foam Surfboards for Beach – Surf as a Boogie Board Bodyboard or Softboard - Includes Fins and Leash in Light Blue sz:4ft 4in | $239.99 | |
Best Foamie Surfboards Review
From big Catch Surfs to smaller Catch Surf models and other brands in between, we have a list of the best foam and soft top surfboards you can find in any lineup.
Our Choice: Catch Surf Heritage 5'6″ Retro Fish Twin Fin Surfboard
This is our runner up in the best foamie category only because most foamies are geared to the newbies.
However, if you are an experienced surfer who wants more performance from a foamie you came to the right page.
This foamie is one of the closest things you will get to feeling like you are surfing a fiberglass board.
It comes with a side extra float for paddle power and fun, because, it's a foamie, duh.
The Catch Surf Heritage has the class twin fin set up on retro fish outline.
You just may forget you are surfing a foamie.
This is the go-to performance foamie.  
You can surf this board aggressively like a fiberglass board.
You don't need to surf it conservatively like a bigger foam board.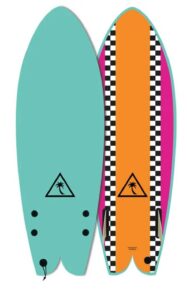 Catch Surf Heritage 5'6″ Retro Fish Twin Fin Surfboard on EVO
More Foamie Surfboards To Choose From
Here are some more great foamie surfboard options to help you catch more waves and have more fun doing it.
Catch Surf Odysea x Lost RNF 5'11' and 6'5″ Surfboard
The Catch Surf Odysea x Lost RNF 5'11" and 6'5″ surfboards are made from a dual composite core and impact resistant HDPE slick skin … Whatever that means.
What is means to you is that you have yourself on capable foamie surfboard that is one part fish surfboard and one part foamie that gives you ton of float.
This foamie board is great for experienced surfers looking to have fun and the newer surfer who is looking to stay on a foamie but wants more turning ability to their surfing game.
If you like or need your surfboards a little bigger go with the 6'5″. For the majority of surfers, the 5'11" will be a good fit.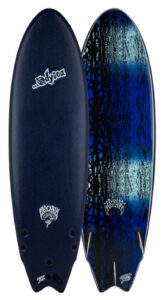 Catch Surf Odysea x Lost RNF 5'11" Surfboard on Evo
Catch Surf Odysea x Lost RNF 6'5″ Surfboard on Evo
Catch Surf Odysea x Lost Crowd Killer 7'2 Surfboard
Have you ever heard of a high performance step up foamie surfboard?
Neither did we, then we found this odd-ysea (zing!)
This Catch Surf foamie model is built to catch waves, bigger waves.
It's got thruster, tri-fin set up which allows for tight turns, a rounded tail which performs in bigger surf and a "No Pearl" Flip-Tip nose which help with, you guessed it, pearling (aka, going head over heals as you are dropping in).
And, it comes with the extra float and paddle power that you come to expect with a foamie.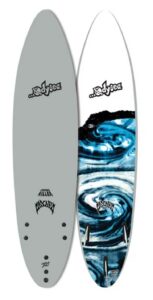 Catch Surf Odysea x Lost Crowd Killer 7'2 Surfboard on Evo
INT Surfboards' Classic Soft Top Surfboard Quick-Hit Review
INT Softboards are the only performance soft surfboards hand-made in the USA.
We craft our boards with waterproof, 100% recyclable, American-made foam.
Cost: $369 – 459.00 (depending on size)
Size: 7′, 8′, 9′
Fin set up: Thruster
Shipping & Handling: Additional
The Bottom Line
The INT Surfboards' line of Classic Soft Top Surfboards are made of higher quality material than other foamie surfboards.
These boards will last longer and will surf more like a fiberglass surfboard, while still giving you that extra float that translates into catching more waves.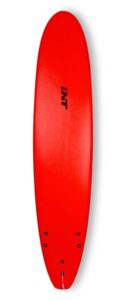 9'6″ INT Yacht on Int SoftBoards
Other Foamie Surboards Worth Buying
The below is a list of foam and soft top surfboards are worth checking out.
Foamy Surf
Foamy surfboards are for beginners, groms, dads and anyone looking to maximize wave count.
Foamy is locally owned and operated in San Diego and Orange County.
Ocean and Earth Soft Top Surfboards
Lots of colors to choose form in this line of foamie surfboards.
Channel Islands Soft Top Surfboards
Models include: Average Joe, Bethany Hamilton
Storm Blade Surfboards
The Storm Blade range features boards from 10ft to 7ft in classic longboard shapes and performance foam shortboards from 6'6″ to 5'6″.
Doyle Soft Top Surfboards
Mike designed the Cabo as a lighter weight, higher performance addition to the soft surfboard line.
Robert Weiner Soft Top Surfboards
High performance soft wrap surfboard by Robert Weiner
Torq Surfboards
Great for beginner surfers.
Foamie Surfboards not yet available in the United States
Vision Surfboards
Soft surfboards and bodyboards designed for maximum stoke whatever your level or ability
Platino Softboards
Quality foamie softboards.