The Grom Life is an independent publisher. You will not find paid product promotions or sponsored content on this site. You will find affiliate links which means we may earn a commission if you purchase through these links.
Patagonia produces some fantastic gear and their waterproof dry bags and backpacks are no exception.
Here are a handful of dry bags and backpacks from Patagonia's we wanted to highlight for surfers.
Great Patagonia Dry Bags & Backpacks for Surfing
Patagonia – Stormsurge Sling 20L
Patagonia's Stormsurge Sling 20L is one of the higher priced dry bags coming in at $229.00 and it's easy to see why. It is both superior in functionality and design.
Made in the Philippines, this bag is very lightweight at 1 lb. 8 oz. It is made of a burly nylon core with TPU coating that makes it 100% waterproof and durable.
While its grab handle makes it easy to grab and dash, it has a super comfortable fully adjustable, low-profile, padded shoulder strap that carries over the right shoulder, making carrying even particular heavy gear a breeze.
It has multiple external lashing options that allow you to stash your other surfing gear with side utility keepers which offer easy attachment to avoid piercing the fabric.
It's 100% waterproof TIZIP® zippers allow for quick access and safe storage of items you wish to stay dry like your phone, clothing and cameras.
It is important to note that Patagonia products come with an iron clad guarantee.
We are fans of Patagonia for both their products and their philosophy.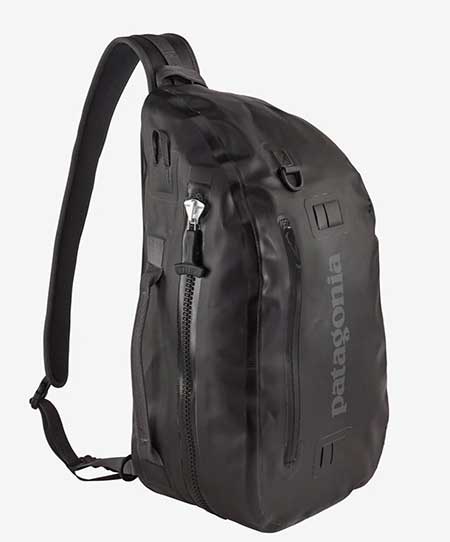 More Dry Bags & Backpacks From Patagonia
Here are more waterproof backpacks and dry bags from Patagonia
Patagonia – Stormsurge Pack 30L
Made of 100% nylon with a single-side TPU coating and a water resistant finish, this bag is durable, water proof and submersible.
It weighs 11.7 lbs and has a slightly larger capacity than the two bags we've reviewed above, this bag will allow you to carry a little more stuff.
Its comfortable, padded shoulder harness and removable waist support makes it almost effortless to carry.
It has two web loops to allow for attachment of other surf gear and side utility keepers.
Though it has a higher price range of $299.00, it is definitely of superior quality, which is what we expect from Patagonia.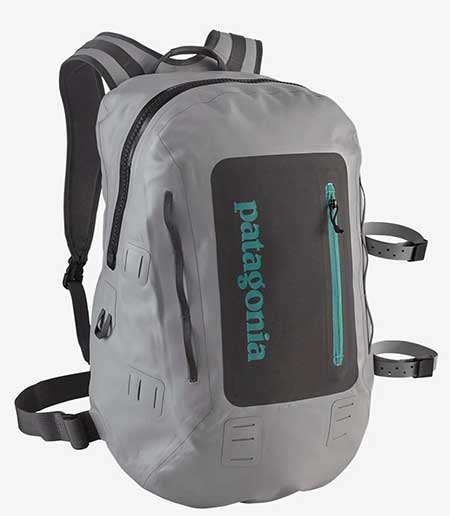 Patagonia – Stormsurge Hip Pack 10L
The Stormsurge Hip Pack 10L from Patagonia is a fully welded and 100% waterproof-submersible dry bag that will keep your stuff nice and dry even in the foulest of conditions.
Like the other Patagonia bags on our list, it is made of burly nylon with a single side TPU coating and a water repellent finish secured by waterproof zips.
Unlike the rest, its capacity is much smaller and it is not built for heavy use. It is secured around the waist by a low-profile hip belt. It also has a padded neck strap to help handle large loads and distribute the weight.
It has lash straps at the front and utility keepers for safe attachment.
It costs $199.00 and is great for light, secure use.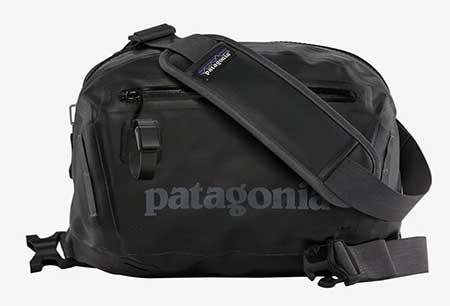 Patagonia – Storm Front Roll Top 45L Backpack
The Storm Front Roll Top 45L Backpack from Patagonia is built to last. It is both durable and high quality.
It's what we would describe as heavy duty.
If you are a hardcore surfer with a lot of gear and gadgets and you are always in the water, this is the bag for you.
This bag is reasonably priced at $149.00.
Though it is non-submergible, its other features make it absolutely worthwhile. It has a low-profile shoulder harness which is very comfortable for any weight.
It has a really long top that creates a lot of room where you can pack loads of gear and still manage to close it properly. It has fully welded seams and is water repellent. It is also compatible with the convertible vest sold separately.
Together with having all the usual slots for your valuables, wax and fins, this dry bag also has external web loops that you can use to secure items for both surfing activity or for other activities such as fishing or camping.
More About Surfing Gear & Reviews