The Grom Life is an independent publisher. You will not find paid product promotions or sponsored content on this site. You will find affiliate links which means we may earn a commission if you purchase through these links.
The Guy Fleming Trail is located in Torrey Pines State Reserve in San Diego.
Guy Fleming Trail is arguably the easiest and best coastal hike in San Diego due to its accessibility, close by and ample parking, the views of the Pacific Ocean, and the short trail.
How Long Is Guy Fleming Trail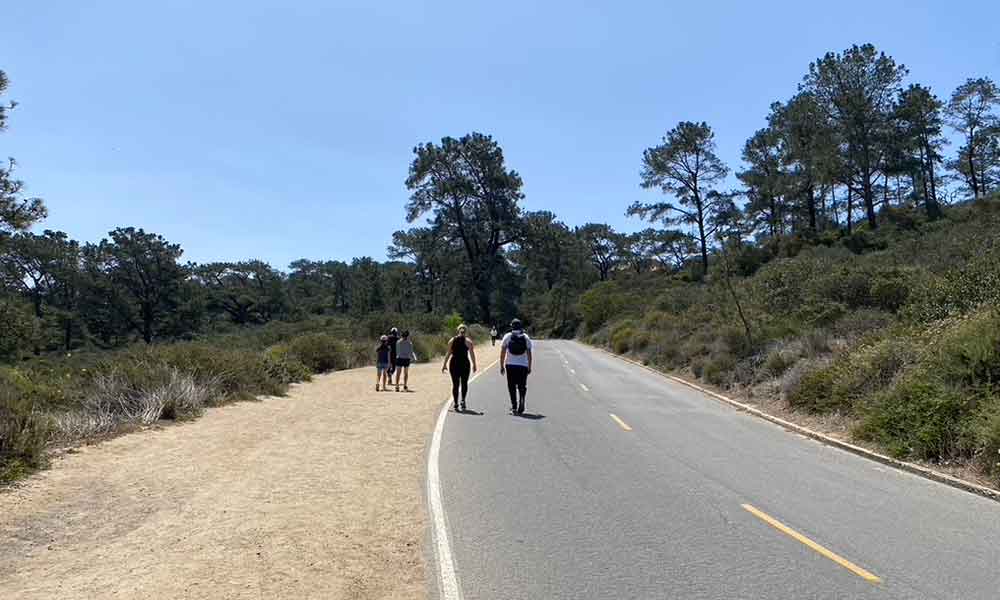 Guy Fleming Trail is about .72 miles long and takes 30 minutes to complete. That includes walking down and back from both lookouts.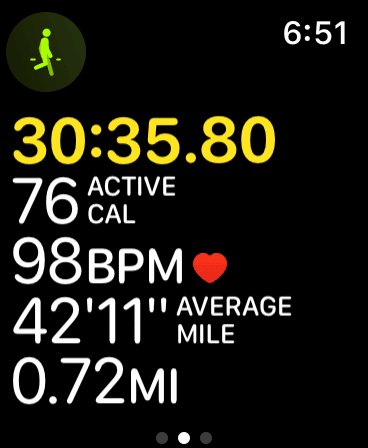 Different resources we referenced before hiking the trail reported different lengths from .65 to .75. It's important to note that the distance other resources report such as TorreyPines.org only tracks the trail distance and doesn't include the distance you need to walk to get to the trailhead.
We parked in the South Beach Lot and clocked a total distance of 1.74 miles using our Apple Watch. So, while the trail is only about .72 miles long, it took about a mile just to reach the trailhead. This is something to keep in mind if you are older, in compromised health, and/or are hiking with small children.
It took us almost exactly 1 hour in total to complete Guy Fleming Trail and return to our car.
About Guy Fleming Trail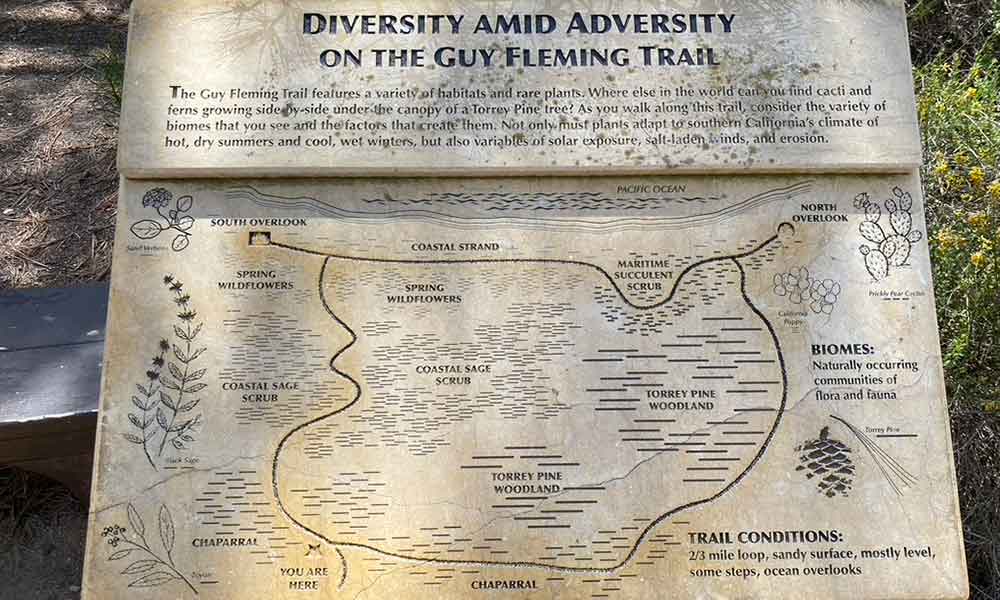 At a glance, here is what you can expect from Guy Fleming Trail.
Distance: .75 miles, 1.74 miles if you start from the South Beach Lot
Time to finish: 30 minutes, 60 minutes if you start from the South Beach Lot
Best time to go: All year long. Dress appropriately for the weather and bring sunscreen
Trail surface: Mostly packed dirt.
Elevation gain: 257 feet (from the parking lot)
Total time: 1 hour (from the parking lot)
Dog friendly: No
Fees: You will need to pay $10 to park in the main parking lot unless you have a California Park Pass
Trail type: Loop
Guy Fleming Trail has two lookouts: One facing north and the other facing south. Both give you great views of the beach and coastline. If you are lucky you may spot dolphins and on rare occasions whales and even on rarer occasions a juvenile white shark.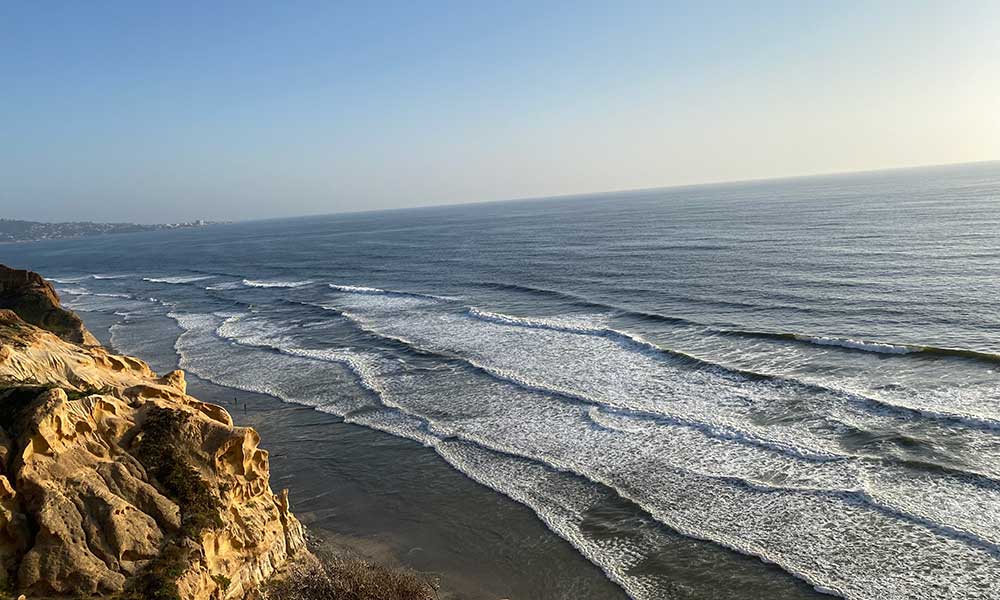 Sunny days will allow you to view the reef and kelp beds under the water.
As you hike you will pass the Torrey pine, one of the world's rarest trees.  You will also pass cacti close enough to touch, wildflowers and other plants such as black sage.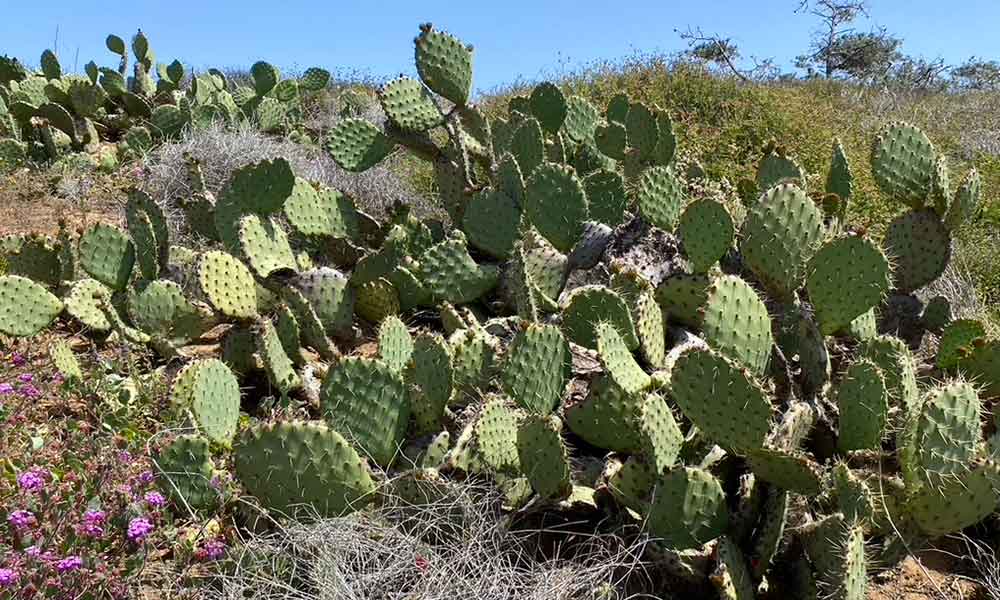 If you time it right, you can be treated to a great California sunset.
Who Is Guy Fleming Trail Good For
Guy Fleming is a relatively easy trail that is good for children and adults who are interested in a casual hike. It is not good for dogs as they are not allowed and if you are starting your hike from the parking lot it may not be good for those with mobility and/or other health issues as you need to walk about 1 mile uphill to access the trailhead.
How To Get To The Trail Head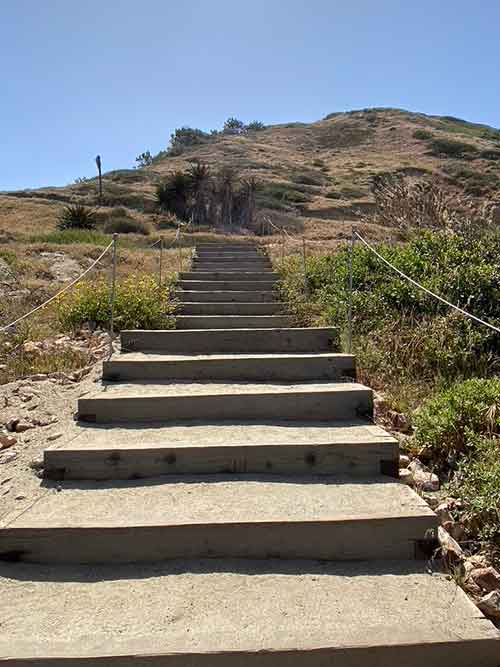 From the parking lot:
Walk south to the stairs
Go up the stairs
Go across the street, make a left, and start walking
Stay on the dirt path as much as you can
Follow the crosswalks. They are there to help get you to the trailhead
You will see the trailhead sign. It's big.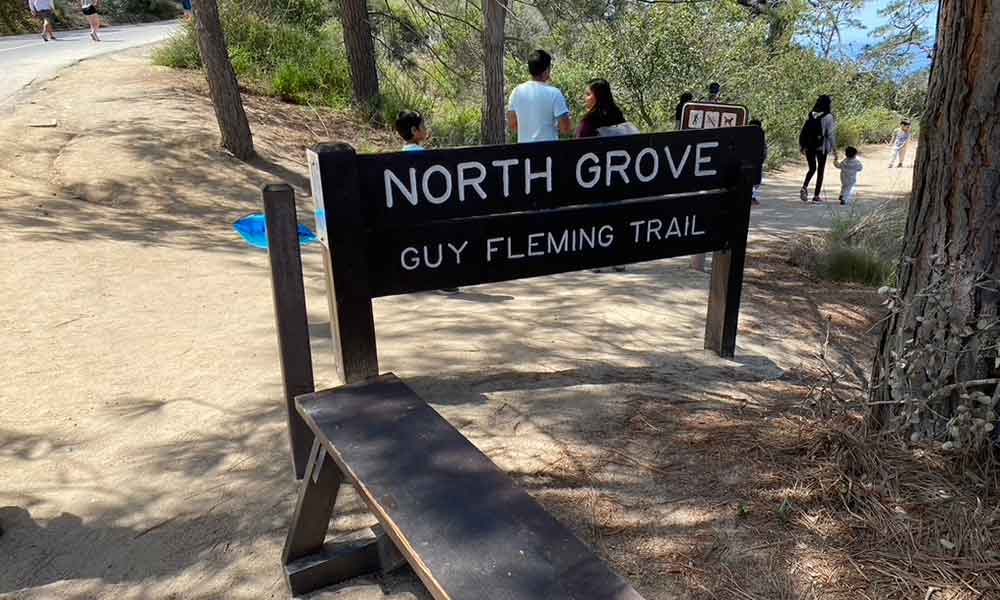 What To Bring
Regardless of the relatively short distance of Guy Fleming Trail, be sure to bring:
Hiking shoes or sneakers
Sunblock and a hat
Shorts or pants depending on the temperature
Water
A backpack
A camera
Guy Fleming Trail Parking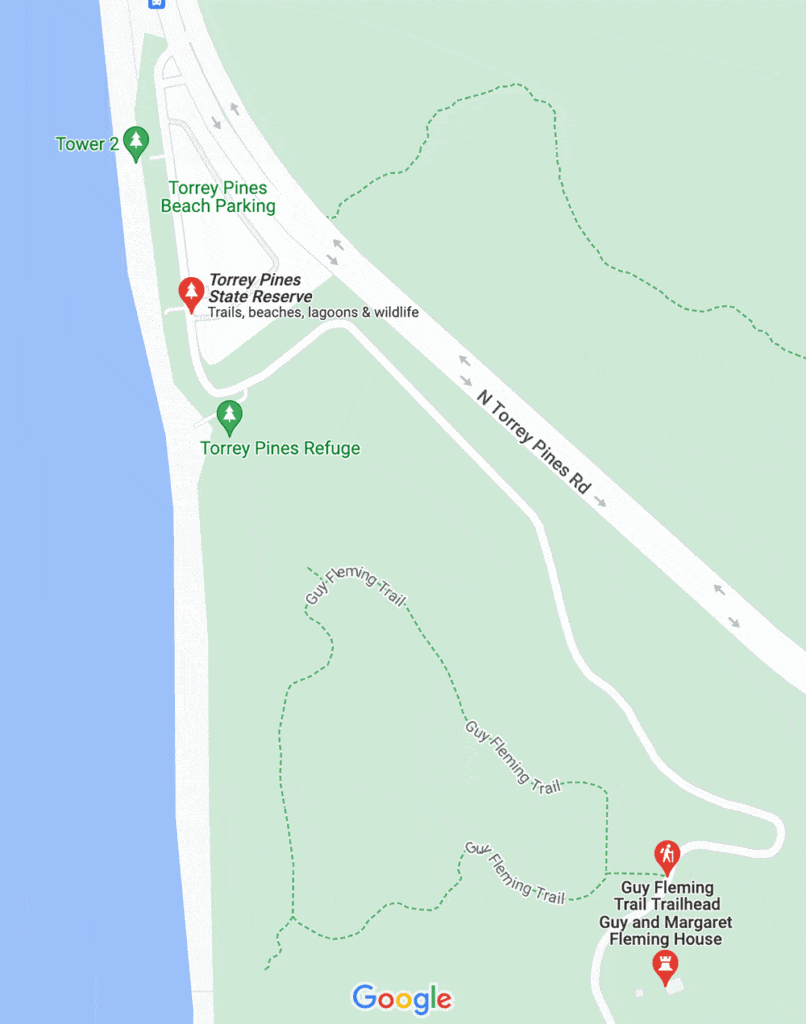 You have a few options for parking for Guy Fleming Trail. Depending on the season and your arrival time, you may need to walk a bit. You can see a map of Guy Fleming Trail on Google here.
In order of proximity to the Guy Fleming Trail trailhead, they are:
The dirt parking lot near the trailhead: If you are lucky, you can find a parking spot very close to the trailhead. The dirt lot is small and holds about 10 cars at best. You will only know if there is room in this lot if you drive up the hill after paying your parking fee for the South Beach Lot.
Parking at the top of the hill: If you don't see any parking in the dirt lot keep driving to the top of the hill where you will find 2 decently sized parking lots with a lot of access to other trails at Torrey Pines.
South Beach Lot: This parking lot is near Tower 2. It is a paved lot with ample parking and gives access to trails and the beach.
The 101/North Torrey Pines Rd: You can find parking on the 101 if there is no parking in South Beach Lot.
North Beach Lot Near Towers 5 & 6: Park here as a last resort if the 101 is packed and if the main parking lot is full. This lot is mostly used by beachgoers and surfers. Parking here will add a significant amount of walking time, but you will be walking by the beach.
Guy Fleming Trail Directions
Put the following into your GPS: South Beach Lot, La Jolla, CA 92037
From The Interstate 5:
Take Carmel Valley Road west to North Torrey Pines Road.
Turn left/south and head look for the entrance to the South Beach Lot
Conclusion
Guy Fleming Trail in Torrey Pines is a short and easy trail for just about anyone. It's easy to get to and offers some great views.
While you are in the area consider snorkeling in La Jolla.