The Grom Life is an independent publisher. You will not find paid product promotions or sponsored content on this site. You will find affiliate links which means we may earn a commission if you purchase through these links.
As California's largest State Park, the Anza Borrego Desert State Park is home to the vast majority of the state's wilderness lands. The incredible, diverse topography, wildlife, and rich history make this State Park a paradise destination for hiking enthusiasts. You are likely wondering which hiking trail you should choose with so many options available.
The Anza Borrego Desert State Park is undoubtedly one of the best destinations for hiking in California. The park's diverse topography and wildlife provide seemingly endless possibilities for hiking adventures. The best hiking trails include The Slot, Borrego Palm Canyon, and Cactus Loop.
With seemingly endless miles of hiking trails on offer, a hiking adventure in the Anza Borrego Desert State Park will be enough to satisfy the most experienced hikers out there. If you would like an experience packed with history, epic wildlife sightings, and breathtaking views, then the Anza Borrego Desert State Park is undoubtedly the perfect place for you!
Hiking In Anza Borrego Desert State Park
It is no secret that California, in general, is a fantastic destination for hiking opportunities, and the Anza Borrego Desert State Park is undoubtedly one of the state's finest testimonies of this. Indeed, Anza Borrego is the kind of place that will leave you with a strong desire to return, mainly thanks to the seemingly endless trails that provide a unique experience.
Boasting well over 600,000 acres, the Anza Borrego Desert State Park is home to almost all (roughly 95%) of California's wilderness lands. This means that the opportunity to come across breathtaking views is a guarantee, regardless of the trail you choose to hike through. From canyons to cacti, mountains to wildflowers, and everything in between, Anza Borrego promises an incredible experience in California's wilderness.
Along with several breathtaking views and overall stunning topography is the wildlife you can expect to see while hiking through the Anza Borrego Desert State Park. Along with sightings of the rare and endangered bighorn sheep, hikers can expect to see a wide range of wildlife, including coyotes, iguanas, several bird species, and diamondback rattlesnakes (hopefully, you don't come across those, though.)
Overall, the hiking experience in the Anza Borrego Desert State Park is incredible. The park's trails differ in distance and overall difficulty, so regardless of your hiking experience or fitness levels, you will be able to enjoy all of the beauty that Anza Borrego has to offer. The park and its hiking trails are open from dawn until dusk throughout the week, so a hiking adventure here is available whenever you are ready.
Preparing For A Hike In Anza Borrego Desert State Park
An essential aspect of hiking anywhere in the world is ensuring that you are appropriately prepared for your adventure. Most of the preparation for hiking can be done through adequate research about the trail and area you are considering for your hike. The quickest way to ruin a hiking experience is to skip the necessary preparation.
One of the first things that any hiker should consider is the time of year that will be best for their hike. In the case of Anza Borrego Desert State Park, hiking is available throughout the year, however, since it forms part of California's desert, the temperatures during the summer can rise over a hundred degrees Fahrenheit, so hiking is not recommended during this time. 
The best times to go hiking in the Anza Borrego Desert State Park are during the spring and autumn/fall months, when the temperatures are moderate and the scenery is lush. Indeed, spring, in particular, is when you are likely to see the wildflowers in bloom, adding that extra touch of beauty to the hiking trails. 
Lastly, ensuring that you have bare essentials like water, sunscreen, and a good pair of hiking boots should not be overlooked. Even during spring or autumn, the temperatures at Anza Borrego Desert State Park rarely drop below the seventies, making hydration and sun protection a high priority. Also, the rocky trails make having a good pair of hiking boots an invaluable asset. 
While you are out in Anza Borrego for a hike, be sure to swing by to take a look at the sculptures.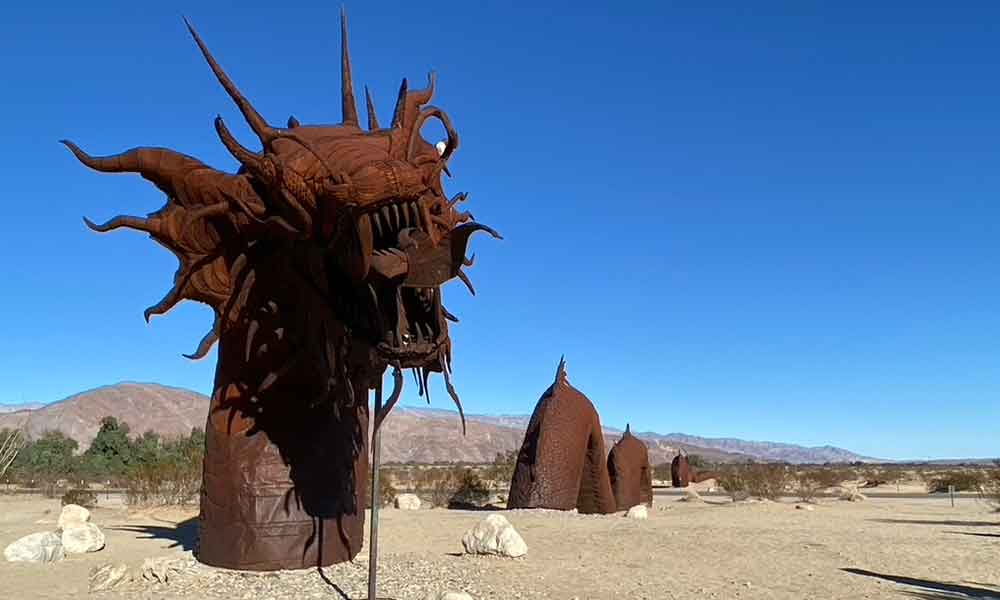 The Best Hiking Trails In Anza Borrego Desert State Park
Alright, now that you are acquainted with the incredible hiking experience in the Anza Borrego Desert State Park, you are likely bursting with excitement, waiting to find out about the park's best hiking trails. While we cannot list them all, we will show you Anza Borrego's best hiking trails that you cannot afford to pass by.
Hellhole Canyon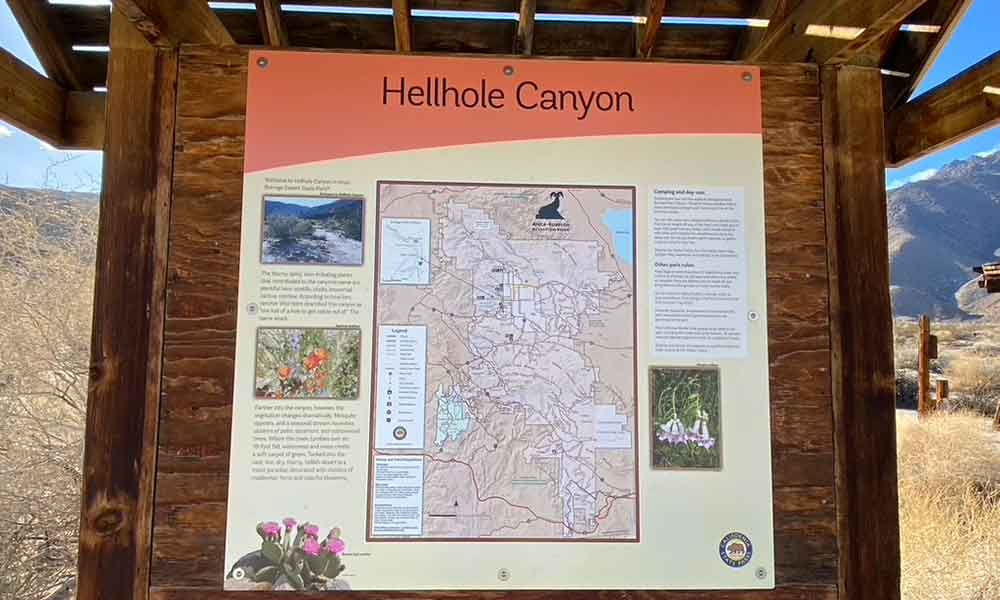 Hellhole Canyon is a moderately difficult hike about 2.7 miles and reaches 1990 feet high. It has a dedicated paid parking lot off of Montezuma Valley Road.
The hike is moderately difficult and there are some parts that will require scrambling up and down rocks.
Hellhole Canyon makes for a great hike that lasts about 3 hours in total if you don't stop for lunch or spend too much time at the waterfalls if they are running. It's one of our favorites.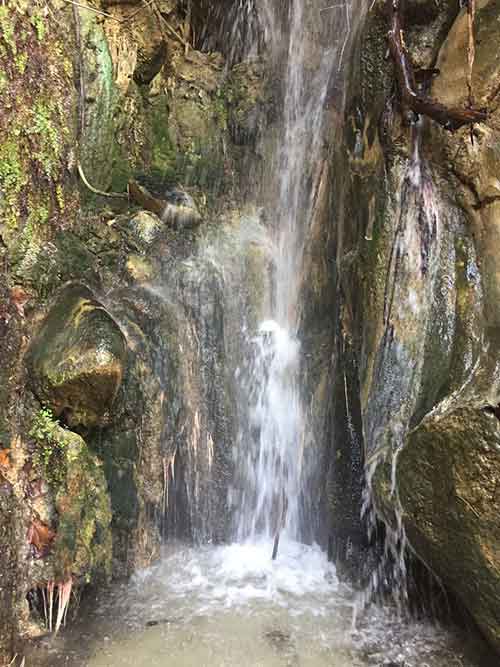 The Slot
First on our list is Anza Borrego's exciting hiking trail known as The Slot. From the outset, we should mention that this might not be the best trail for you if you are not a fan of relatively tight spaces. However, if you are able to handle it, then this hike is undoubtedly one of the best hiking adventures that Anza Borrego has to offer.
Spanning a total of roughly 2.5 miles, The Slot is a moderately challenging hike that requires hikers to navigate their way through tall, narrow rock walls. Don't worry, though, the walls do get wider the further along you go, so you don't have to worry about getting stuck or feeling claustrophobic for too long. 
Aside from navigating through beautiful canyon walls, the trail is filled with beautiful scenery, making for a memorable hiking experience. This trail is known to get relatively busy over the weekends, so try to arrive early or visit during the week, if possible.
Borrego Palm Canyon
The Borrego Palm Canyon, also known as the Palm Canyon Trail, is undoubtedly a must-visit trail in Anza Borrego. This is one of the park's most popular trails, thanks to the diverse, exquisite scenery. From palm oases to blossoming wildflowers, mountains to flowing waters, the Borrego Palm Canyon trail is one not to be missed. 
Along the roughly three-mile trail, this area is also where you are most likely to spot the bighorn sheep and a variety of beautiful birds. Again, because of the popularity of the trail, try to arrive early if you go on the weekend, or instead, try to go during the week for a more secluded experience. 
Cactus Loop
Last on our list, but nowhere near the last that the Anza Borrego Desert State Park has to offer, is the mesmerizing hiking trails known as Cactus Loop. This is by far one of the more leisurely hikes within the park but undoubtedly one of the most scenic, too. 
The trail weaves through a seemingly endless number of various cacti species. While that might not sound all that exciting on its own, the view is unquestionably spectacular and promises to provide one of the most relaxing, scenic hikes in California. 
If you are a beginner hiker or just someone looking for easy hikes in San Diego, we have a few more for you.
Conclusion
All in all, a hiking experience in the Anza Borrego Desert State Park is not to be passed by! The diverse topography, wildlife sightings, and overall breathtaking scenery are unmatched and are guaranteed to provide the perfect backdrop for an epic hiking adventure. For hiking and outdoor enthusiasts, this is an opportunity that is undoubtedly bucket list-worthy!