The Grom Life is an independent publisher. You will not find paid product promotions or sponsored content on this site. You will find affiliate links which means we may earn a commission if you purchase through these links.
Powell Peralta, Alien Workshop, Girl, and Chocolate-these are some of the biggest and best skateboard brands in the world.
They're old school and some of them have been around for several decades, producing premium products for generations of skateboarders.
But what makes these brands unique, how old are they, and on a list of the best skateboard brands in the world, which companies would join them?
The Best Skateboard Brands
What follows is a list of the best skateboard brands in the world.
They are in no particular order and this is just our opinion, so remember that before you chastise us for overlooking your favorite skate brand!
Powell Peralta
Powell Peralta is one of the oldest old school skateboard brands on this list.
It's also one of the best.
Powell Peralta launched in the 1970s and continues to produce some of the most reliable boards on the market.
The deck designs are great, the accessories are high-quality, and the skateboards can take a beating, making them ideal for experienced skateboarders.
Santa Cruz Skateboards
Santa Cruz Skateboards is often ranked as one of the best old school brands in the sport, as it has a history that dates back to the 1970s and has maintained a solid reputation ever since.
Santa Cruz Skateboards uses 100% American maple in the construction of its boards and is best-known for its screaming hand design, which features a palm with a screaming mouth inside.
You'll also find designs based on pop culture classics, so check your local skate shop for designs with Yoda, Wolverine, and Hulk.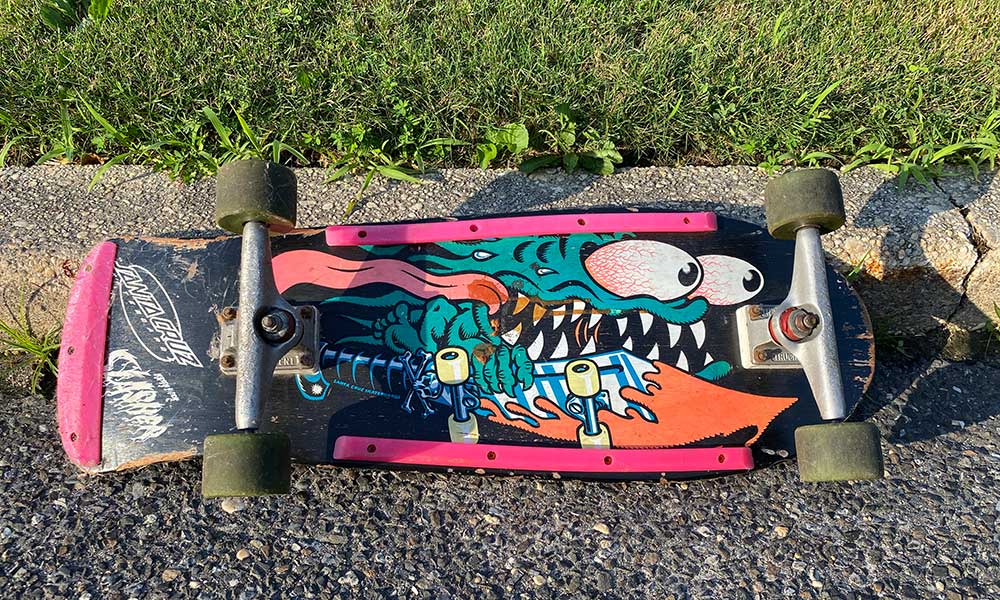 As the name suggests, Santa Cruz Skateboards was founded in Santa Cruz, California.
They are distributed by NHS, Inc, a brand that is also based in Santa Cruz, California, and one that distributes for Creature Skateboards.
Girl Skateboards
Contrary to what the name might suggest, Girl Skateboards was not founded by or exclusively for female skaters.
In fact, the internet seems to disagree with the origin story of this Girl Skateboards and it's hard to get a definitive answer.
Some say the owners are woman just liked the name suggests, others claim it's because the owners were told that they skated like girls.
What we do know is that Mike Carroll, Spike Jonze, and Rick Howard were three of the biggest names behind the founding of the brand and it wasn't until 2019 that they added the first actual girl, Breana Geering, to the team.
Girl is a hugely respected skateboard brand that makes solid boards from multiple layers of maple wood.
Chocolate Skateboards
Chocolate Skateboards is owned by the Girl Distribution Company, the same brand behind Girl Skateboards.
The designs and the construction are similar to the aforementioned skateboard brand, but Chocolate Skateboards tends to be much better in the customization department, giving riders complete control over how their boards look and feel.
Many younger skateboarders tend to gravitate toward this skateboard brand because of its quality, affordability, and enticing deck designs.
Birdhouse Skateboards
Birdhouse Skateboards is one of the best skateboard brands in the game.
It's also one of the best-known old school brands, thanks in no small part to its founders, Tony Hawk and Per Welinder.
Birdhouse Skateboards produces reliable and solid boards with fun images that appeal to a wide range of tastes.
Customization is available and there is a wide variety of products to choose from.
Check out your local skate shop to pick up a board from Birdhouse Skateboards.
Plan B Skateboards
Plan B Skateboards is considered to be one of the best skateboard brands in the world, but it hasn't always had things easy.
The brand was founded in the early 1990s, only for its founder, Mike Ternasky, to pass away several years later.
The old school brand faded away but was revived around a decade later by Colin McKay and Danny Way.
Alien Workshop
Alien Workshop produces some high-quality and affordable skating products.
This old school skateboard brand was founded in the 1990s in Ohio by Neil Blender, Mike Hill, and Chris Carter.
It produces consistently solid pre-assembled skateboards, and its alien designs are some of the best in the business, if you're into that sort of thing.
Element Skateboards
Johnny Schillereff launched Element Skateboards in 1992, establishing the company as a leading provider of boards designed for performing tricks.
It's an elite-level skateboard brand known for producing some of the most durable boards in the business.
These boards can take anything that you throw at them.
Zero Skateboards
The Zero Skateboards brand was founded in 1996 by Jamie Thomas.
The brand's boards often feature an iconic skull design, and they are considered to be some of the best skateboard brands for beginners, as well as younger skaters.
Blind Skateboards
Blind is a hardcore skate brand targeted toward advanced skaters looking for a high-quality board.
Mark Gonzales founded Blind Skateboards in 1989, creating 8-ply boards for added strength and durability.
The boards are incredibly high-quality, and the marketing is also solid, with Mark Gonzales and the Blind team orchestrating numerous videos that have helped to make it one of the biggest skateboard companies in the world.