The Grom Life is an independent publisher. You will not find paid product promotions or sponsored content on this site. You will find affiliate links which means we may earn a commission if you purchase through these links.
Vert skateboarding is challenging but rewarding, and it has produced some of the best moments in the history of modern skateboarding.
The following guide to vert skateboarding will help you to meet this challenge head-on and ensure you're ready for those vert ramps.
What Does "Vert" Mean in Skateboarding?
"Vert" is short for "Vertical" and refers to a big-air style of skateboarding.
It refers to a skating style where the rider goes from the horizontal to the vertical, gaining big air and using it to perform an array of tricks.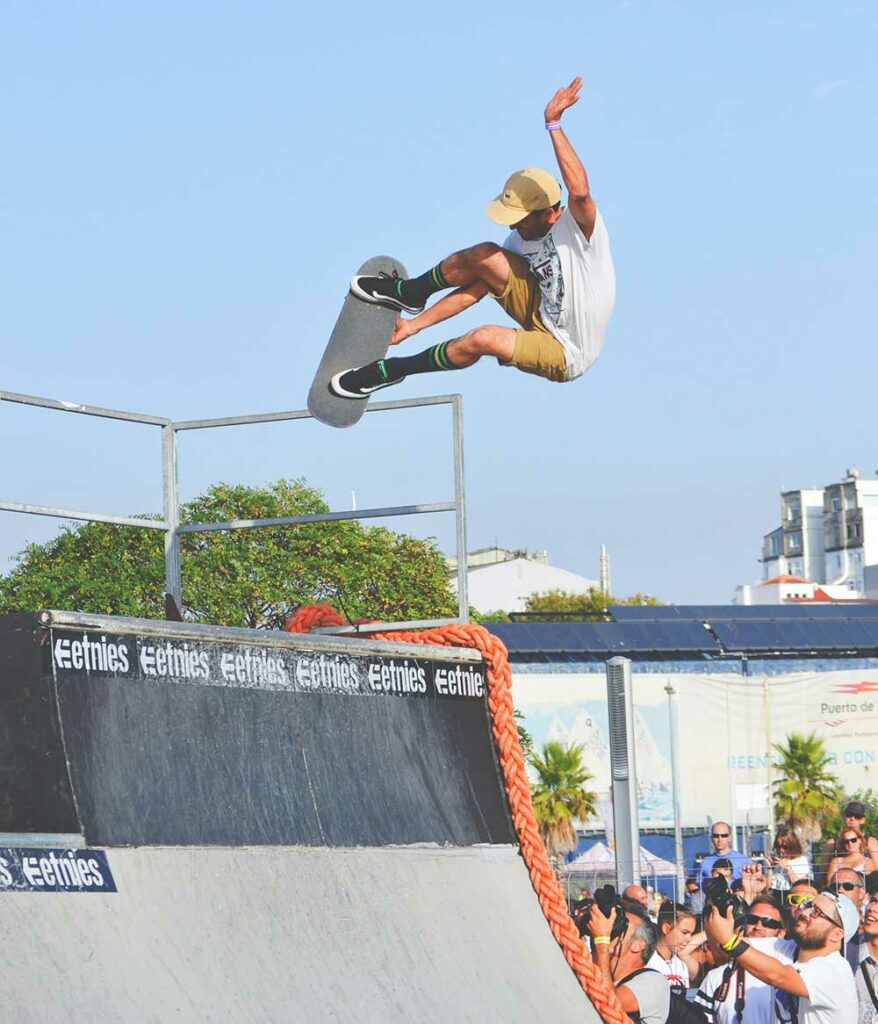 What is Vert Skateboarding?
Vert skateboarding began in empty swimming pools. Skateboarders would hop fences to find empty pools before taking advantage of the bowl shape to generate high speeds and big air.
Vert skating became popular during the 1970s and experienced a golden age during the heyday of Tony Hawk.
Indoor Vert vs Outdoor Vert Skateboarding
You can find vertical ramps in indoor and outdoor skateparks.
Indoor ramps tend to be well maintained and of a much higher quality.
There are also rails, kickers, and other ramps to skate and as there are no issues with low light, you can flip flicks long into the night.
The problem with vertical skateboarding indoors is that skateparks and vert ramps can be crowded and indoor skateparks often cost money.
It's also quite hard to find good indoor vert ramps.
With outdoor vert ramps, they are usually free, there are no queues, and you can meet with friends and other vert skaters in the local area.
Outdoor ramps are not as well maintained and may be full of dirt and wax, but you can still enjoy yourself in these purpose-built skate parks.
Vert Skaters at the X Games
In 2008, the X Games announced that vert skating would be removed from the competition.
Vert ramps would still be there, but it would no longer be an event in itself.
Tony Hawk, Bob Burnquist, and several other pro skateboarders condemned the move and rallied against the organizers, forcing them to reverse the decision and keep vert skating at the event.
However, just a few years later, vert skateboarding was removed from the women's event, with the organizers citing low participant numbers as one of the main reasons.
Getting Started with Vert Skating
Newbie vert skaters usually aspire to follow in the footsteps of legends like Tony Hawk.
A couple of decades ago, Hawk also inspired a generation of vert skaters via the Tony Hawk video games series, although the majority seem to have stuck with street skating.
If you're an aspiring vert skater, follow these steps to make a start:
1.    Find a Vert Ramp
During the 1990s, Tony Hawk famously moved into street skating, citing a lack of vert ramps as his main reason.
Even today, several decades later, vert ramps are not as common as proponents of this style would like.
The first thing you should do, therefore, is locate a ramp that you can use.
If your nearest vertical ramp is 50 miles away and there isn't an alternative, you may determine that this skating style just isn't right for you.
2.    Get the Equipment
You're going to be riding at high speeds and making some pretty impressive jumps—you will fall and you will probably hurt yourself.
To prepare, you'll need a helmet, elbow and knee pads, and some wrist guards.
3.    Learn to Fall
Before you learn how to perform tricks, you must learn how to fall.
If you watch some videos of vert skaters, you'll notice that they always seem to land on their knees and slide down the ramp.
That's how they learned to fall, as it means they're not breaking their fall with their wrists and potentially breaking their wrists in the process.
4.    Move and Stop
You can't expect to make big spins and flips when you're just getting started.
So, before you learn the tricks, learn how to hang over the edge of the ramp, shift your weight correctly, and ride the slope.
You should also practice stopping.
When you get the basics down and can drop, ride, and stop without falling, you're ready to move onto the next stage.