The Grom Life is an independent publisher. You will not find paid product promotions or sponsored content on this site. You will find affiliate links which means we may earn a commission if you purchase through these links.
Do you have questions about Costco's Wavestorm?
We have answers about fins, repairing your Wavestorm, waxing your Wavestorm, and more.
Do you wax a Wavestorm surfboard?
We think so. Most foamies, including the Wavestorm say you don't have to wax them.
But the surface of the board will be more tacky with a little bit of wax.
If you bought the Wavestorm as a cheap, convenient option that you leave in your car on hot days, you may want to forgo the wax as you will be welcomed by a waxy mess on your car seat at some point.
How do you wax a Wavestorm surfboard?
Wavestorms, like most foamie surfboards, can get slippery.
Get a bar of surfing wax and rub it on the top (not the fin-side) of the board. Once you have a thin layer of wax you are good to surf.
Below are a few great surfing wax options for the Wavestorm (and other soft tops).
How do you repair a Wavestorm surfboard?
Do not use surfboard resin, Solarez, silicone, or epoxy.
Those materials will melt the foam.
Hot glue guns and Gorilla Glue (get Gorilla Glue on Amazon) can be a big help when you want to repair your Wavestorm.
How to keep a Wavestorm from getting water logged?
This video shares a few tips about how to install the fins on a Wavestorm to better keep your Wavestorm water tight.
Can you buy Costco Wavestorm fins?
If you lost of damaged one or more of the fins on your Wavestorm, you can get replacements on Amazon.
How long does the Wavestorm last?
The lifespan of the Wavestorm is a season or 2.
If you ride it into the sand with each wave, you should expect to get a season out of it.
If you take care of it, it could last much longer just like any other surfboard.
How can I expand the life of my Wavestorm?
You can expand the life of your Wavestorm by not riding into the sand, storing it somewhere where it doesn't get too hot and buying a surfboard sock for it.
Should I use a leash with my Wavestorm?
Yes. Surfboards are a danger when they are loose and getting thrown around in the surf.
Also, all it takes is one gauge from a rock after losing your Wavestorm for it to start to absorb water.
Are Wavestorm surfboards a good foamie surfboard?
Yes, and it all depends on your expectations of it and how much care you give it.
If you are looking for a big piece of foam to have fun on that won't last for more than two season this is the board for you.
What is "Costco Surfboard 99"?
"Costco surfboard 99" refers to the $99 price Costco's Wavestorm when it was introduced in 2004 and was only available for purchase at a Costco store.
While the price is no longer $99 you can now purchase the Wavestorm at Costco and at Amazon.
Does Costco Sell Surfboards other than the Wavestorm?
Yes, Costco carries 3 foam surfboards that we are aware of.
They carry the original Wavestorm which was introduced in 2004 and the newest model, a foam fish surfboard model.
Recently, they started to sell a Gerry Lopez 8′ soft surfboard as well.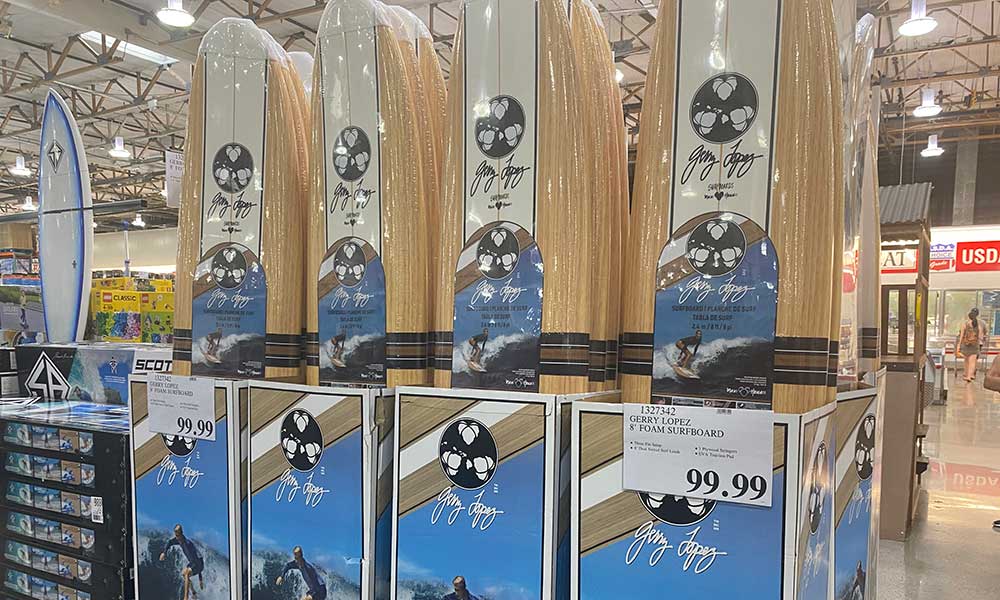 The Gerry Lopez Foam Board at Costco goes for $99.
If you are new to surfing and want a cheap surfboard, this may be the one for you.
What is the price of a Wavestorm?
You can buy a new Costco Wavestorm for about $200.00 with shipping and handling included.
Where can you buy Wavestorm surfboard?
They don't call it the Costco Wavestorm for nothing. Amazon sells the blue one and the rasta colored Wavestorm, too.
You can also find used Wavestorms for sale online on Craigslist.
At around the $200 mark, you might as well buy a new Wavestorm as used boards may not be worth it given the wear and tear that comes along with them.
More About Foamie Surfboards