The Grom Life is an independent publisher. You will not find paid product promotions or sponsored content on this site. You will find affiliate links which means we may earn a commission if you purchase through these links.
Asbury Park is a beachfront city located in Monmouth County, NJ. It has a small population but welcomes countless tourists every season, with many of them flocking to the beautiful beaches or enjoying the cultural hotspots. Asbury Park, New Jersey is not a huge surf destination, but if you're visiting Asbury Park, you should definitely bring your surfboard.
You will need to surf at the surfing beach located near the north-most jetty at 8th Avenue in Asbury Park during the summer months. Between Labor Day and Memorial Day you can surf anywhere you see a good peak.
If you are lucky you will catch a summer tropical storm of hurricane swell. Even if the surf is not great, there is much more to this little city than its waves. Take the exit off the Garden State Parkway and head down to this idyllic Jersey Shore location.
Where You Can Surf in Asbury Park, New Jersey
Outside of the summer season, which runs from Memorial Day weekend to Labor Day weekend, surfers can surf at any beach in Asbury Park.
What To Expect From Surfing In Asbury Park
Wave Types: Standard beach break waves.
Best Tide: Low to medium tides are best. High tides have a tendency to kill the waves.
Best Swell Direction: South, south-west. Pray for hurricanes and tropical storms as that's when things really get interesting.
Best Size of Swell: Knee-high in the summertime and a little over head-height in the winter months.
Skill Level of Wave: The waves are low and manageable in the summer but you'll need to be an expert if you're here during the winter months.
Local Surfers: You probably won't find any famous surfers or many tourists, just a few locals.
Best Board to Bring: Grab your shortboard to have the most fun in the winter and a longboard during the summer months.
Seasonality Notes
Very Busy in the Summer.
Very Cold in the Winter.
Averages 40 in the Winter and 80 in the Summer.
Average Temp for the Year is Over 60.
Something to Do All Year Long.
Does New Jersey Get Good Surf?
It's not that unfrequent of a question. Who better to prove it than Kelly Slater surfing the brown waves of a NJ winter with a broken foot.
Kelly Slater Surfing In Nearby Spring Lake, NJ
Is Asbury Park Beach Free?
Beach passes are required to get on the beach in Asbury Park. This also applies if you are surfing. They cost $5 on weekdays and $7 on weekends and holidays.
Children, disabled veterans, and active-duty personnel can visit for free and there are season badges available if you want to save a few bucks during regular visits.
Is Asbury Park Safe?
The crime rates in Asbury Park, NJ are a little higher than they are in other parts of New Jersey, particularly in the west side of the city. In the last few years, the crime rates seem to have risen in Asbury Park and it is frequently listed as one of the 10 most dangerous cities in New Jersey.
It should be noted, however, that New Jersey is generally considered to be safer than many other US states and it's not unusual for areas with a lot of tourists to have record-high crime rates.
Is Asbury Park Dog Friendly?
Dogs can freely visit the Deal Lake Dog Beach providing they are supervised. They can also visit the boardwalk from September 15th to May 15th if they are supervised, licensed, and leashed.
There are exceptions for other dates and times, though, so make sure you check the rules and regulations before you visit Asbury Park with your pooch.
Famous People Associated with Asbury Park
Bruce Springsteen, Danny DeVito; actors, musicians, sports stars—Asbury Park has been associated with many notable people over the years.
Bruce Springsteen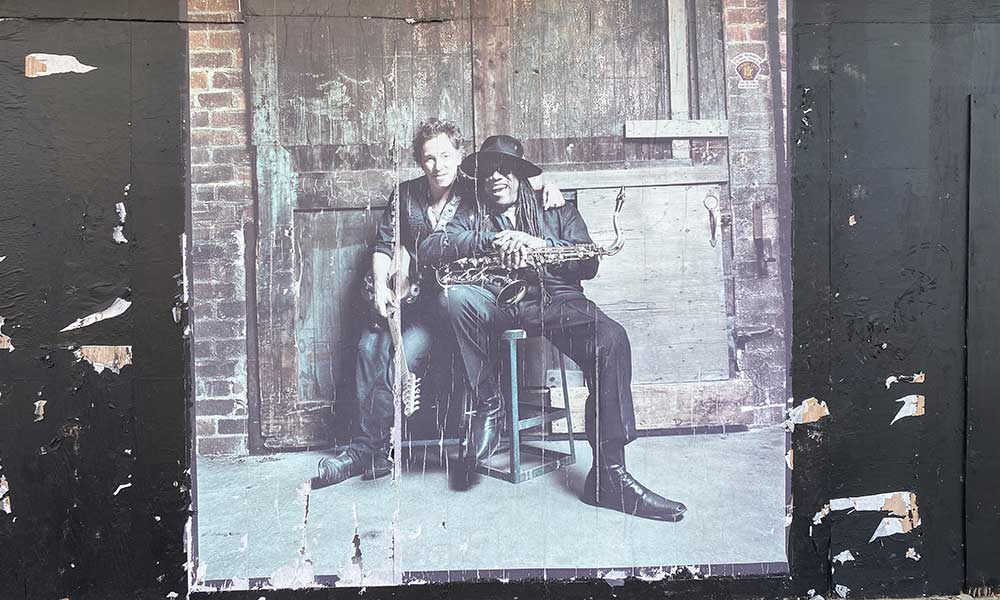 Bruce Springsteen is one of Asbury Park's most famous residents. The Boss was actually born in Long Branch, but it's less than a 15-minute drive from Asbury Park, where he spent a lot of his youth.
Apparently, he still lives near the city and is still just a 25-minute drive away in Colt's Neck. Springsteen helped to put Asbury Park on the map with his debut album, Greetings from Asbury Park, N.J.
It also featured in the song 4th of July, Asbury Park (Sandy), which has been described as a musical study of Jersey Shore culture.
Danny DeVito
Danny DeVito was raised in Asbury Park and was born just a few minutes away in Neptune Township. The Twins and Taxi actor was raised in a Catholic family with Italian roots.
One of his early roles came in 1975, when he played a small part in One Flew Over the Cuckoo's Nest, but his breakout role was in 1978 when he appeared as Louise DePalma in Taxi.
Bud Abbott
Bud Abbott was one-half of the comedy duo, Abbott and Costello. The actor and comedian was born in Asbury Park back in 1897 and lived to the age of 76. His comedy partner, Lou Costello, was born in Paterson, NJ, about an hour north of Asbury Park.
The legendary Groucho Marx once described Abbott as the "greatest straight man ever".
Local Surf Shops, Stores, and Surboard Shapers
If you need a new surfboard or some accessories, or you have a few dings to repair in your old board, check out the following surf shops and shapers in Asbury Park, NJ.
Glide Surf Co.
Glide describes itself as a "surf lifestyle store". It opened in 2011 in Normandy Beach, New Jersey, and then moved to its current location in 2013 following Hurricane Sandy.
Glide is open 7 days a week during the summer but it only opens from Friday to Sunday in the winter months.
Wanderlust
Wanderlust is a boutique in Asbury Park, NJ that sells urban and surf-style clothing. Drop by during a summer visit to grab some threads for the beach.
DaveySky Surfboards
DaveySky makes high-quality boards and is run by a skilled, passionate, and dedicated surfer and shaper.
GUNN Surfboards
GUNN is run by a shaper named Drew. He makes no secret of the fact that the company is basically just him and his dog, and if you want a truly independent brand that makes all surfboards by hand, it's the place to be.
GUNN is actually in Ocean, New Jersey, but it's right next door to Asbury Park, NJ.
Places to Eat & Drink
Asbury Park has some of the best eateries in the Jersey Shore and you can enjoy pizza, pasta, sushi, tacos, and breakfast favorites served by chains, fine-dining locations, and even local celebrities.
Here are a few of our favorite restaurants in Asbury Park:
Porta Asbury Park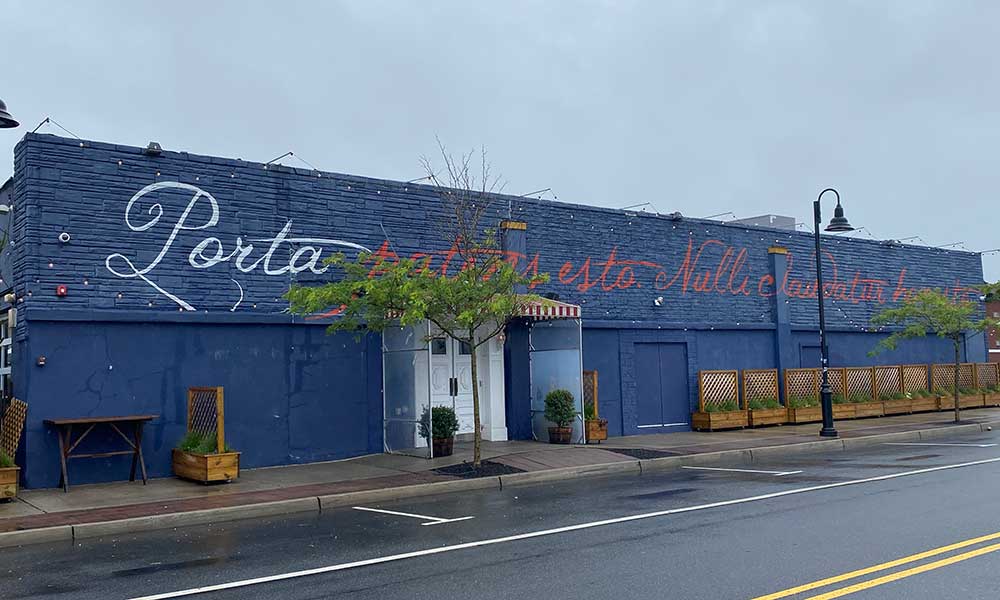 Great pizza, pasta, antipasti, and other classic Italian dishes in the heart of Asbury Park. It's hearty and fresh with huge portions and plenty of Italian style. More about Porta.
Frank's Deli and Restaurant
Franke's Deli is owned by Mary and Joe Maggio, along with Southside Johnny Lyons, a local legend who has performed with many NJ greats and was one of the biggest inspirations for Jon Bon Jovi. Frank's Deli is practically a local landmark.
It's one of the best places to eat in the Jersey Shore and serves a variety of breakfast items, including breakfast sandwiches for less than $8.
MOGO Korean Fusion Tacos
If you love Korean and Mexican food, why not combine them? It sounds like an odd combination, but it works incredibly well.
It's all about tacos at MOGO, but everything has been given a Korean flavor, including beef tacos made with Korean BBQ ribeye and Asian pico de gallo.
Taka
Taka serves Asian food and is very popular with locals and tourists alike. You can enjoy a variety of cocktails with your sushi, noodles, and miso soup, and there are plenty of options for vegans and vegetarians.
Set aside at least $80 per person for several courses and drinks. There are cheaper menu options available if you just want to grab a quick bite to eat.
Moonstruck
Moonstruck is currently the number 1 rated Asbury Park restaurant on Trip Advisor. It's an American fine dining restaurant with big portions and a variety of dishes made with locally sourced ingredients.
There are lots of seafood, meat, and vegetable dishes to enjoy and while the main dishes range from $30 to $40 a head (easily over $100 each for several courses and drinks), it's definitely worth it.
Places to Stay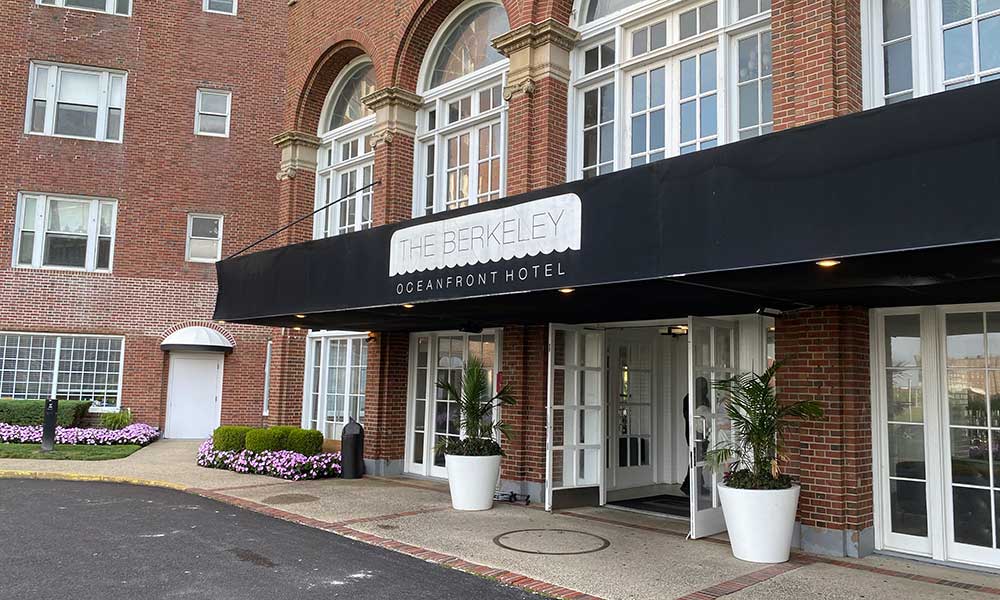 Asbury Park's premier accommodation is the Berkeley Hotel, which has been a major part of the city's landscape for over 100 years. There are 257 rooms and they are all pet-friendly.
Alternatively, check out the Asbury Hotel, a super-stylish, comfortable, and clean hotel that serves as the first port of call for countless tourists visiting this seaside destination every season.
Things to Do In Asbury Park, NJ
Whether you're in the water or browsing the local attractions, there is a lot to see and do in Asbury Park.
Surf Lesson with Summertime Surf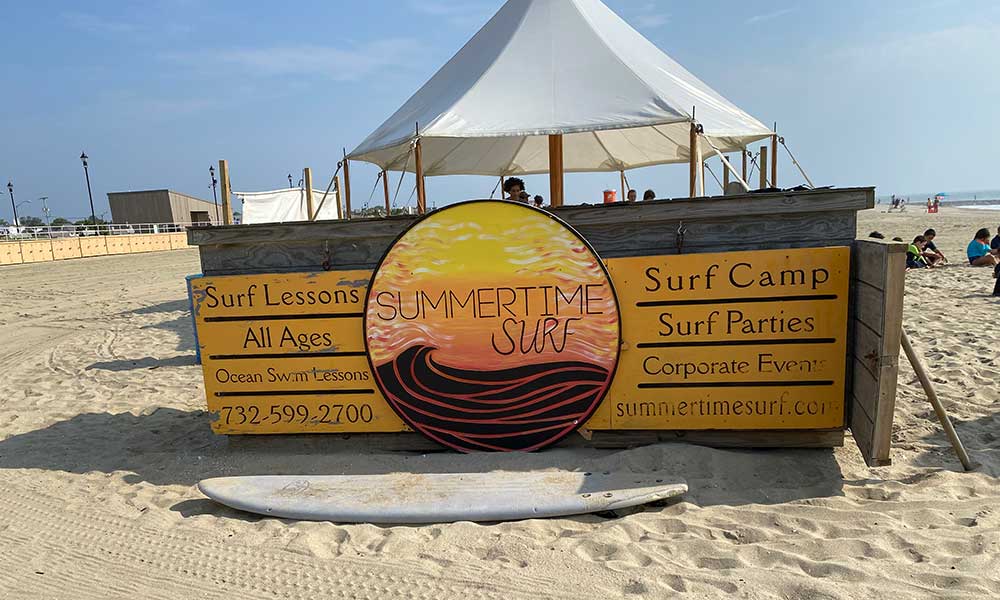 The Jersey Shore might not have as many great surf spots as the shores of California or Hawaii, but it's still a great place to learn and there are a few companies that will show you the ropes and ensure you have all the necessary equipment.
Summertime Surf is one such company. They host regular group and private surf lessons for beginners, as well as advanced lessons for those seeking to fine-tune their skills.
The private lessons cost $95 for over an hour and they are open to all ages 7 days a week. Surfboards and wetsuits are included, so you don't need to worry about additional purchases or rentals.
If you're surfing with a friend or partner, it'll cost you $150 for a 2-on-1 session.
Arcade on the Asbury Park Boardwalk
The Silverball Retro Arcade is the perfect destination for retro gamers. And by "retro" we're not talking about Sonic and early Mario—there's no Ocarina of Time or Street Fighter in sight.
As the name suggests, Silverball is all about pinball. In fact, it's the home of pinball on the Jersey Shore and there are over 600 of these games in total.
Zombie Walk
The Zombie Walk is a literal Zombie Walk that takes place on the Asbury Park Boardwalk.
It has been recognized by the Guinness Book of World Records as the largest gathering of people dressed as zombies and it seems to be getting bigger and bigger!
Pride Parade
Asbury Park has a large LGBT community and every year there are Pride parades to celebrate this community.
If you're in the city during Pride, make sure you grab your rainbow flag and join in with the festivities.
Get a Psychic Reading with Sabrina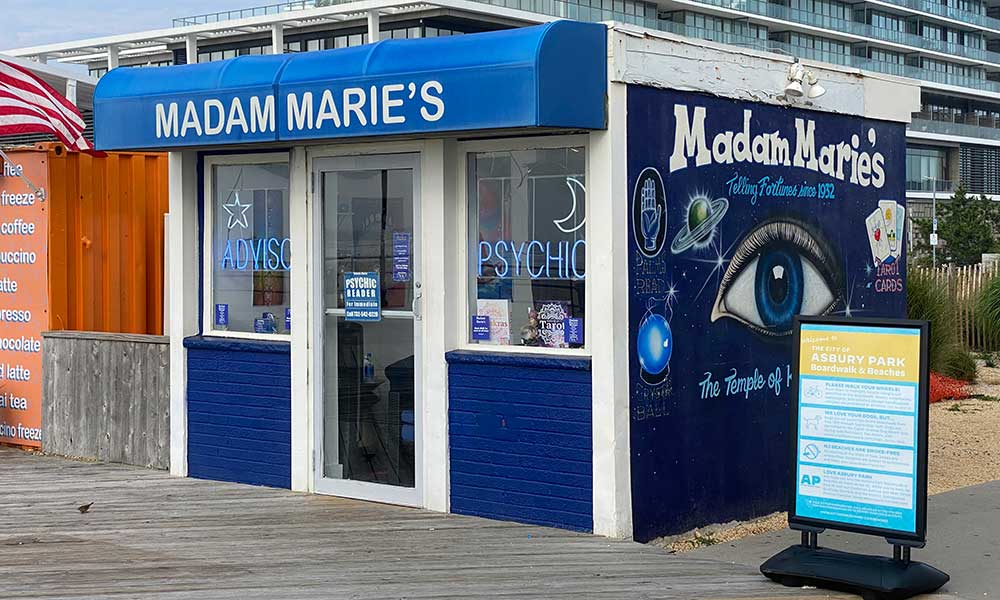 In the song 4th of July, Asbury Park, Bruce Springsteen sang the lyrics "Did you hear the cops finally busted Madame Marie for telling fortunes better than they do?".
She was a legend in these parts and told fortunes from a small stand on the Boardwalk, often with The Boss busking nearby. The "Gypsy Queen of the Boardwalk" passed away in 2008, but you can still have your fortune told by her daughter, Sabrina.
It's something different, something fun, and you'll also have a story to tell your friends every time you hear that famous Springsteen song.
You can get a reading from Sabrina.
Walk on the Boardwalk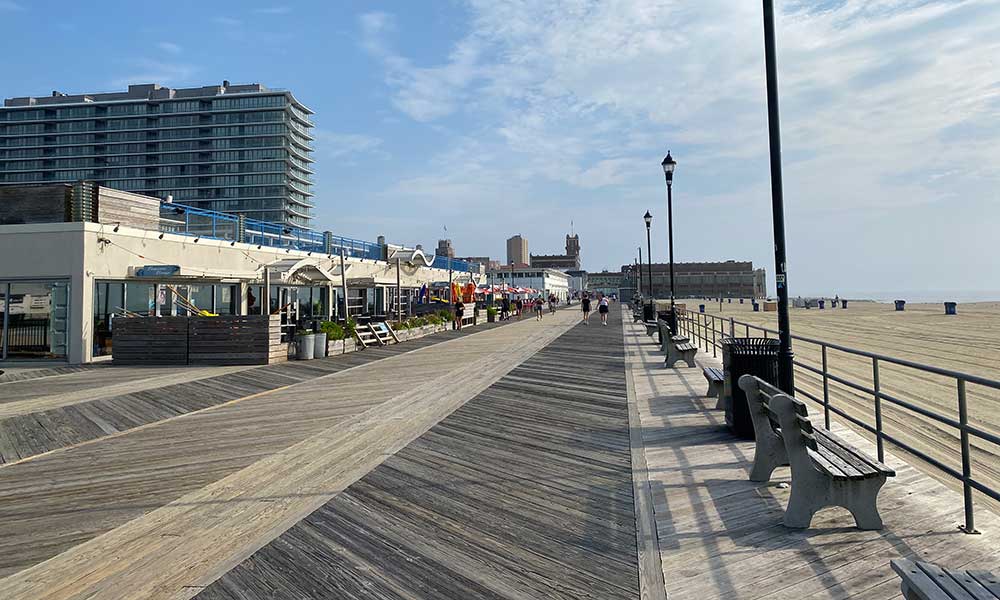 The Asbury Park Boardwalk is a must-see during a visit to Asbury Park. It's a beautiful little stroll and will show you some of the best beach and sea views in the city. Fans of Kevin Smith's Dogma may recognize the Boardwalk from some early scenes in the film.
Asbury Park Convention Hall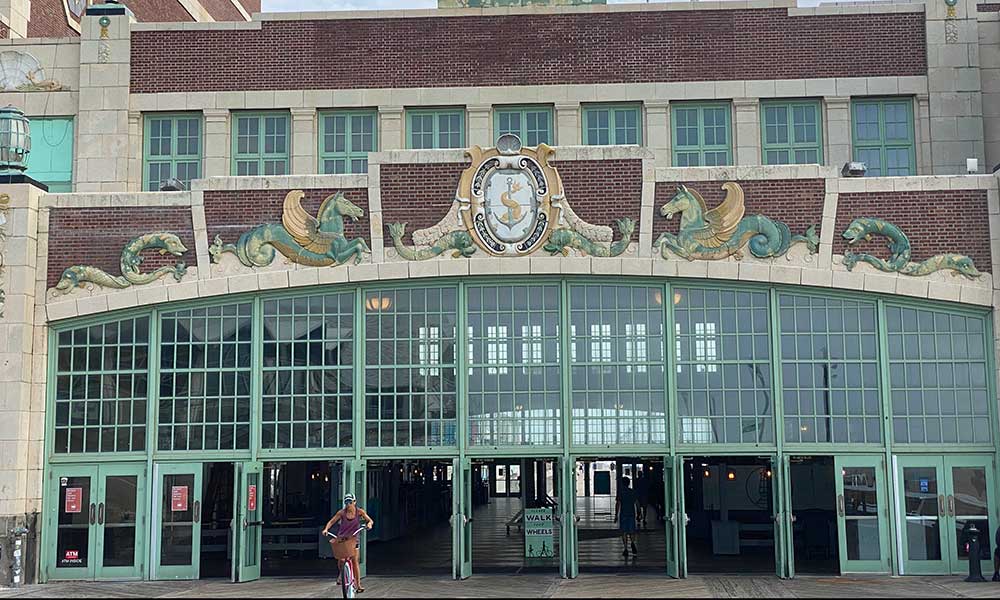 The Asbury Park Convention Hall is a long-standing building that has played an important role in the history of this city.
The Carousel on The Boardwalk
There was an actual carousel in the building at one time. Then it was skate park. Now it is the occasion host to art and other events.
See the Murals and Art
Asbury Park has always had a rich art scene and the Boardwalk murals are a great example of this, as is the Wooden Walls Art Project, which showcases great artwork throughout the city. You should also visit Parlor Gallery, art629, and Exhibit No.9.
Live Music in Asbury Park, NJ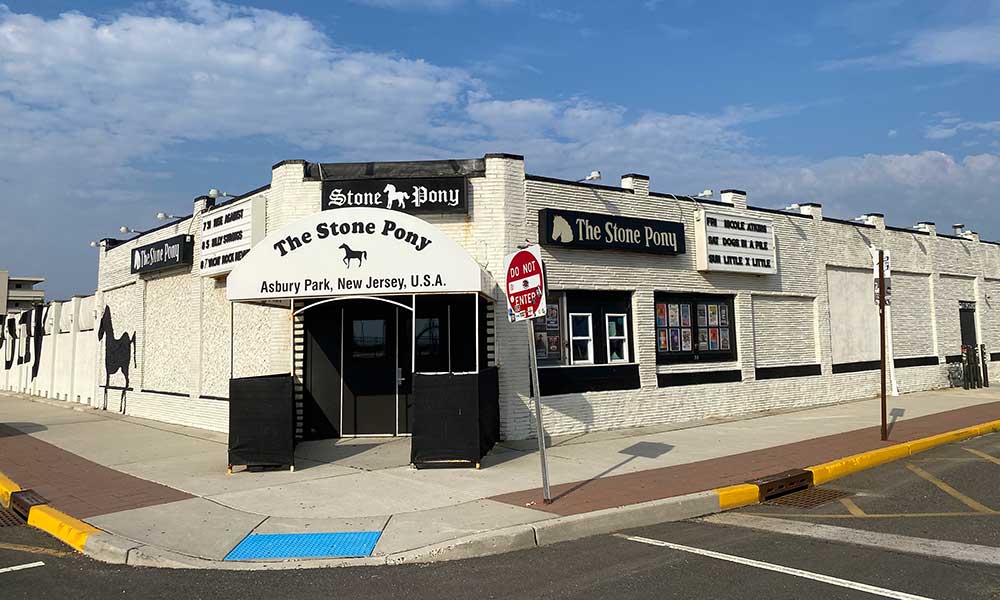 Like Liverpool, Hamburg, Nashville, and other great cities, Asbury Park's history is all about the music.
The Stone Pony has witnessed the birth of NJ's best bands and performers, including Springsteen, Bon Jovi, and the Asbury Jukes. It's still standing, and The Boss is said to make appearances every now and then.
The Wonder Bar is another great musical venue.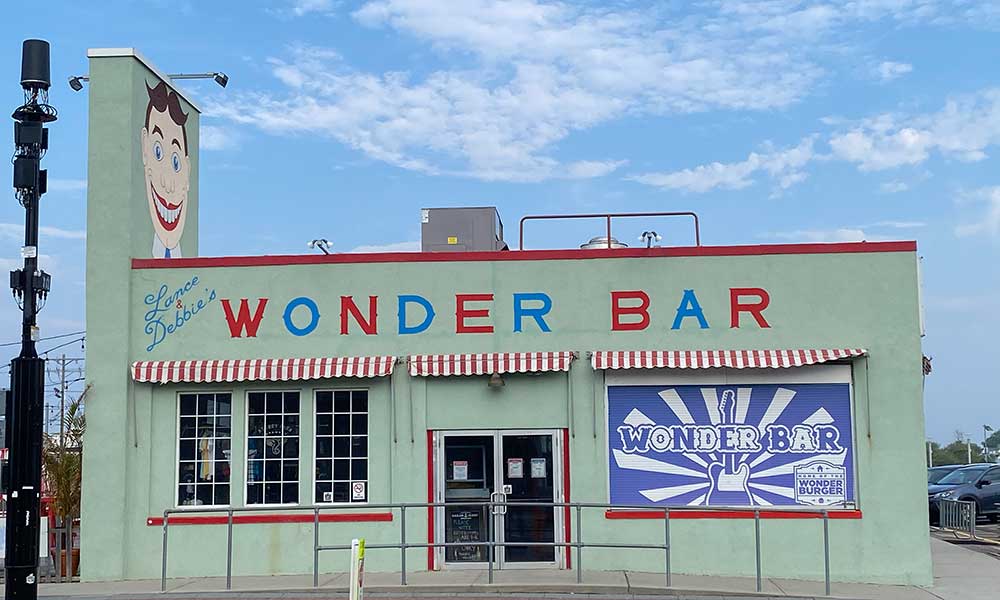 You can even take your pooch along during Yappy Hour, when canines can eat, drink, and enjoy some music with their owners.
Ice Cream at Cookman Creamery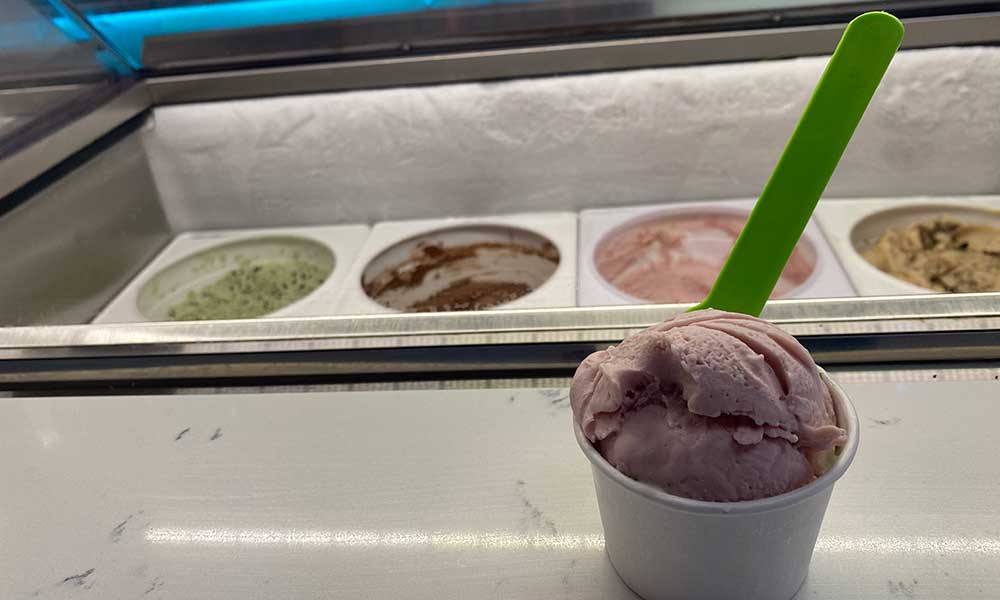 Cookman Creamery has some of the best ice cream in New Jersey, and that's a statement that we don't make lightly!
You can place an order online for delivery or pickup and enjoy delicious cold treats whenever you're in town.
Asbury Festhalle Biergarten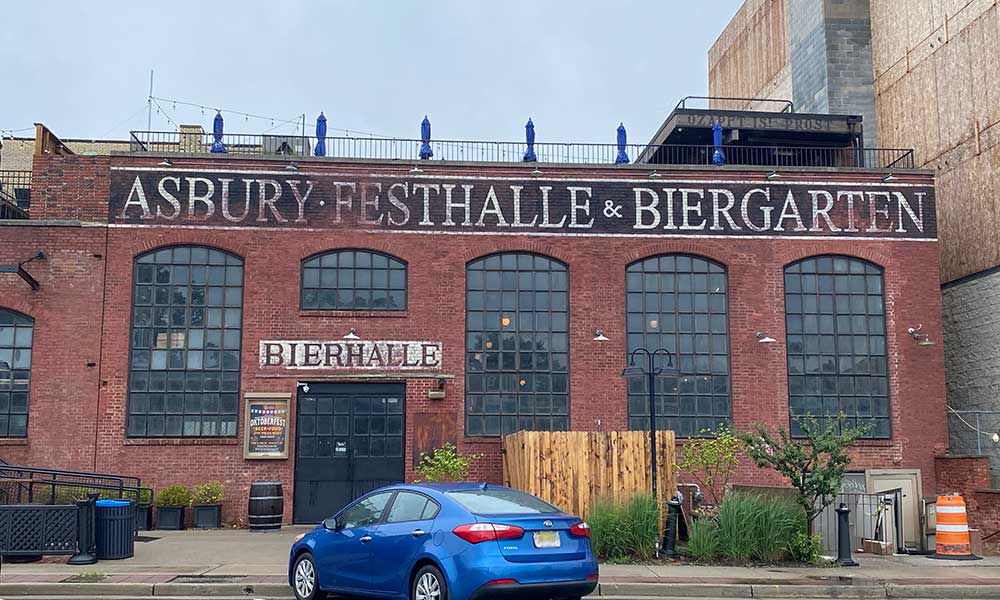 For great beer served in a traditional German style, drop by Asbury Festhalle Biergarten. It's a little piece of Oktoberfest in the heart of Asbury Park and there are a number of imported beers to sample.
Coffee at Asbury Park Roastery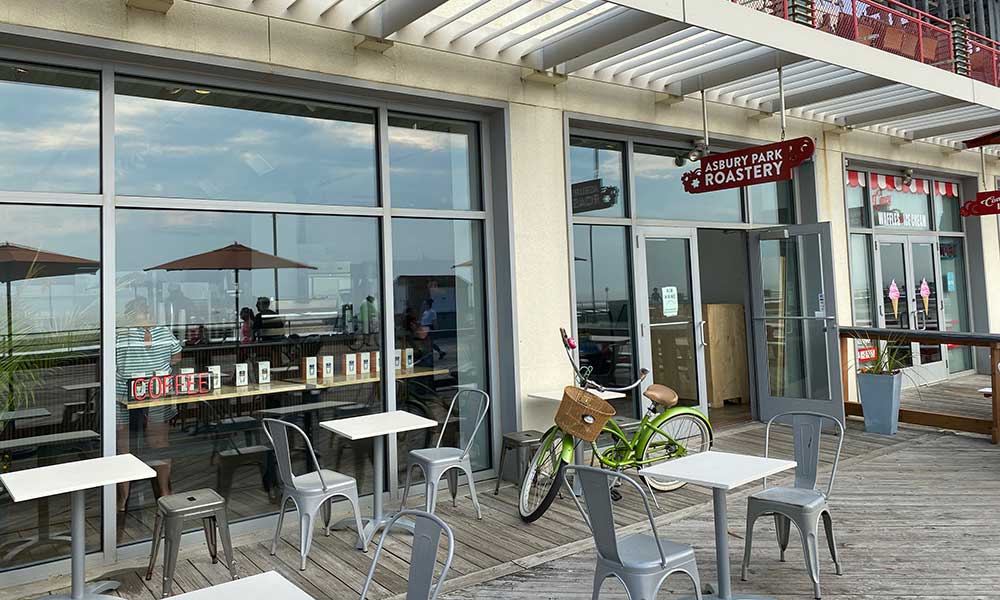 Asbury Park Roastery has been around since 2007 and has become the city's go-to location for artisan coffee and loose leaf tea.
You will find a genuinely varied selection of premium coffees and teas, including the best Darjeeling and English Breakfast tea, coffee blends from Colombia and Brazil, and a selection of whole leaf herbal teas.
Take Home a Memento
What better way to remember your trip to Asbury Park than with a tattoo?
Drunken holiday tattoos are usually not something you willingly place on your itinerary, but if you're sober and genuinely want a good tattoo to remember your trip, go to Electric Tattoo.
Electric Tattoo has served as Asbury Park's premier tattoo parlor since 2007 and is open 7 days a week.
History of Asbury Park
The Asbury Park of today is vastly different from the Asbury Park of several decades ago.
In fact, this Jersey Shore location has had many guises over the last century or so.
The Early Years
The city of Asbury Park was founded back in 1871 by a man named James Bradley. Bradley was a brush manufacturer from Manhattan and in addition to Asbury Park, he also helped to develop Bradley Beach, which still carries his name.
Asbury Park was named for Francis Asbury, one of the first bishops of the Methodist Episcopal Church.
Asbury was born in England but conducted most of his life's work in the United States, where he helped to spread Methodism before passing away half a century before Bradley founded the city that bears his name.
James Bradley built most of the city's infrastructure and installed the Asbury Park Boardwalk and pier. His work attracted other developers and by the turn of the 20th century, the area was flourishing.
The Boom
In the 1920s, Asbury Park Convention Hall was built along the Paramount Theatre and state-of-the-art schools.
In the 1930s, Asbury Park was one of the biggest tourist attractions in the state, helped by the flaming wreck of the S.S Morro Castle which became a tourist attraction in 1934.
The Bust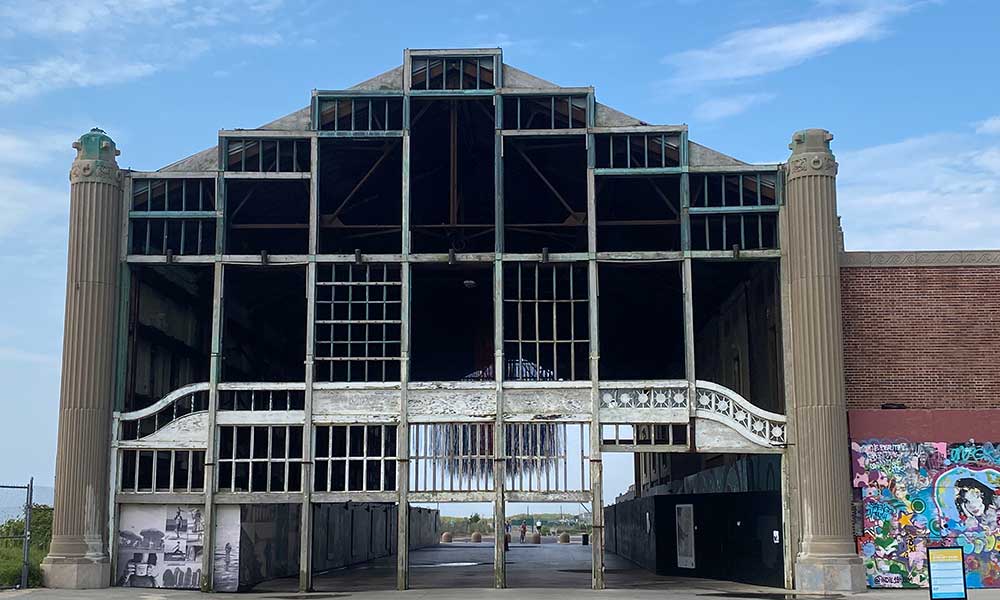 The first nail in Asbury Park 's coffin came in the late 1940s, when the Garden State Parkway opened and gave tourists the freedom of choice. There were more seaside destinations to visit and they stopped seeing Asbury Park as the place to be.
Huge sums of money were invested in other seaside destinations and Asbury Park struggled to compete. Like so many small cities heavily reliant on tourism, it struggled to stay relevant.
The town lost its main source of income and it also lost its residents, with many locals and businesses heading inland to the suburbs and office blocks.
During the 1960s and 1970s, the town struggled with rising poverty and unemployment.
Like much of the US at the time, it was also racially segregated and the tension that had built over many decades exploded in the summer of 1970 when riots broke out. In the aftermath, the city was in ruins with over $4 million in damage and 167 arrests.
The formerly happy seaside resort now resembled a war zone.
The Turnaround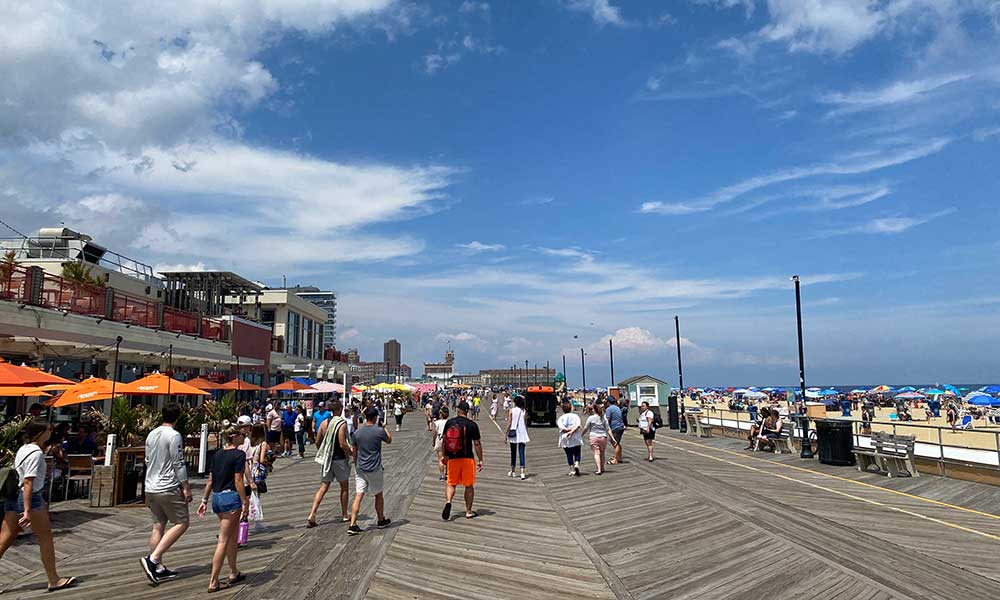 Throughout much of the 1970s, Asbury Park had a terrible reputation. It was a place of disorder, crime, and chaos.
Many buildings were boarded up and it was a far cry from the beautiful seaside destination of the early 20th century. Scandal and corruption kept the city on its knees for several decades, but there were pockets of hope.
It held onto a vibrant music and art scene throughout these dark times and it's during these days that Bruce Springsteen earned his spurs as a musician. The Boss played in many local clubs and these bustling venues also hosted acts like Bon Jovi.
The cultural heart of Asbury Park continued to beat and this continued with the redevelopment phase during the early 2000s. Asbury Park was dragged out of the doldrums by tax concessions, a thriving LGBT community, and some great events, parties, and more.
These days, Asbury Park is firmly back on track. It might not be as big as it was during its heyday, but it's getting there and it plays an important role in the economy of the Jersey Shore.