The Grom Life is an independent publisher. You will not find paid product promotions or sponsored content on this site. You will find affiliate links which means we may earn a commission if you purchase through these links.
Located in San Diego County, Cardiff-by-the-sea is one of the most popular vacation destinations in California, with several of the state's best beaches.
Whether you're catching some waves with the local surfers, snapping some scenic photographs, or just chilling on the beach, you'd be hard-pressed to find a more suitable destination.
If you want to learn more about Cardiff, including the surf breaks, water quality, and what to do in the summer months and winter months, this is the guide for you!
Cardiff, California (Cardiff-by-the-Sea)
Cardiff (officially "Cardiff-by-the-sea") is a beach community incorporated within the city of Encinitas.
It has a small population but this swells with tourists during the peak months.
The history of the region dates back to the Kumeyaay Indians, who were its first inhabitants.
It was later settled by the Spanish and then by the Mackinnon family, who sold large portions of the land to a Boston-based developed name J. Frank Cullen.
Cullen's wife was from Cardiff, Wales, a city that dwarves Cardiff-by-the-sea in area and population and is actually the capital of Wales.
This little Californian haven was named for the Welsh capital, and the United Kingdom also served as inspiration for many of the community's streets, including Birmingham, Liverpool, Chesterfield, Oxford, and Manchester, all of which are major UK towns and cities (surprisingly, all are in England and not Wales).
Where Can I Surf in Cardiff?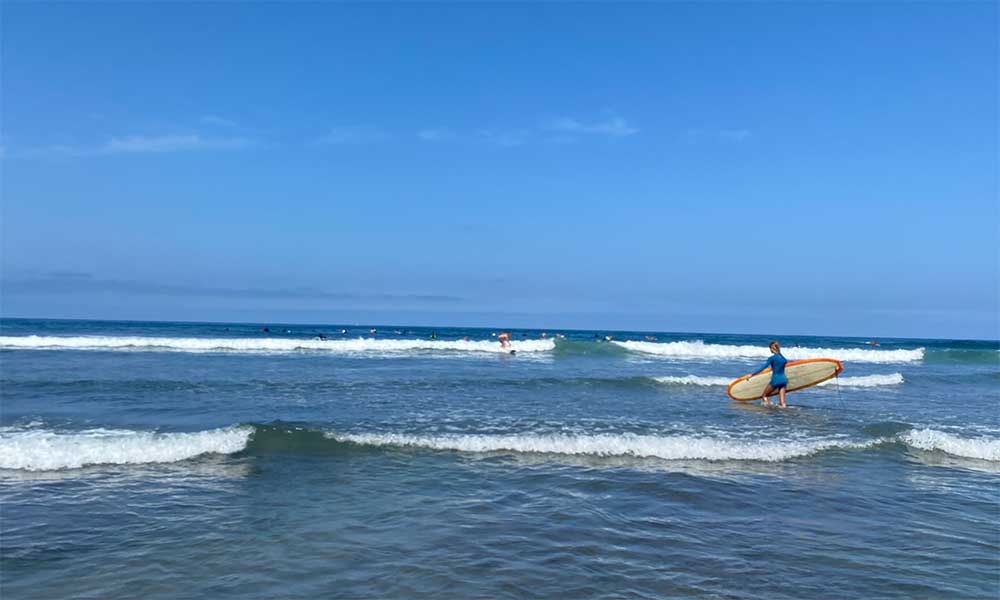 You'll find some of CA's best surf spots in Cardiff.
Here is a summary of the must-visit spots:
Cardiff Reef
Cardiff Reef is known simply as "the reef" and is probably the best surf spot in North County.
It first became popular with surfers during the 1950s and today you'll find scores of surfers on the waves.
Cardiff Reef has a mixture of waves that both beginners and professionals can enjoy.
And that's not all, as there is also a flat rock reef that appears when the tide is low and is perfect for adventurous snorkelers.
Wave Type: Clean waves that work well with longer rides.
Best Tide: Good surf during all stages.
Best Swell Direction: West Northwest
Board to Take: Shortboard or Funboard.
Seasonal Notes: Best during the winter months (November and March).
January has some of the most consistent waves.
Seaside Reef
Seaside Reef is one of the busiest beaches in North County.
It gets busy early and it stays busy throughout the day and the season. The difficulty level is a little more advanced in areas but there are still options for less experienced surfers.
There are no serious hazards to worry about here but the crowd can be problematic.
Wave Type: Reef breaks.
Best Tide: Mid tide and low tide.
Best Swell Direction: West
Board to Take: A leashed shortboard or longboard.
Seasonal Notes: The winter months offer the best and most consistent waves. It's also a crowded area, so take care during peak times.
Georges
The beach break waves at Georges are suitable for beginners and the crowds are not as high here as they are elsewhere.
The waves break left and right and most types of boards work here.
The only real downside to Georges is that it's not always easy to find parking nearby.
Wave Type: Beach breaks.
Best Tide: Low tide.
Best Swell Direction: West Northwest.
Board to Take: Fish or Longboard for summer surfing; shortboard for the winter.
Seasonal Notes: The summer months are great for surfing at Georges but consistent waves are more common in January.
Where Can I Park?
You can park for free along Highway101, but it's busy and you may struggle to find any space during the busy months.
Alternatively, there are designated parking lots and you can park if you have a pass.
Notable Surfers
Cardiff-by-the-Sea has a population of under 12,000 people, but many of them are pro surfers and other celebrities who want to experience life in this peaceful and serene community.
In addition to Emily Ratajkowski, a London-born actress raised in San Diego, and Scott Eastwood, an accomplished actor with an uber-famous father, Cardiff-by-the-Sea is home to the following surfers:
Rob Machado
Rob Machado is a surfer and activist who was born in New South Wales, Australia, but attended high school in San Diego County and currently resides in Cardiff-by-the-Sea.
Machado is a former champion of the U.S. Open of Surfing and the Hawaii's Pipeline Masters and is one of the greatest surfers in the history of the sport.
Joel Tudor
Joel Tudor is a San Diego native best-known for his prowess on the longboard.
The goofy-stanced rider turned professional aged 14 and won his first ASP competition just a year later.
Nicknamed "Tinkerbell", Joel Tudor still calls North County home and can be seen on its shores.
Tosh Tudor
Tosh is Joel's son, a young rider with a large and growing following who makes regular trips to the beaches around Cardiff-by-the-Sea.
Cardiff Kook
The Magic Carpet Ride is a bronze sculpture located in Cardiff-by-the-Sea.
It was commissioned by the Cardiff Botanical Society at a cost of $120,000 and was given the name "the Cardiff Kook" by the locals.
The name comes from the slang term for a wannabe surfer and was used in reference to the statue's apparent improper form.
The backlash gradually turned into a prank war of sorts and these days the Kook is repeatedly dressed up in various costumes by the locals.
The inexperienced bronze surfer has donned all pink in support of breast cancer awareness and has even been attacked by a pterosaur and swallowed by a shark!
When Was the Cardiff Kook Installed?
The Cardiff Kook was installed in 2007, but it took several years to bring the project to life.
Who Sculpted the Cardiff Kook?
It was sculpted by artist Matthew Antichevich who also works as a sculpture instructor at San Jacinto College.
Local Surf Shops, Surf Lessons & Stores
If you need to rent a board, want to take a few lessons, or just want to browse some surf shops, be sure to include the following on your itinerary:
Iron Cross Surf Shop
Located on San Elijo Ave. Iron Cross Surfboards is open 7 days a week and sells a variety of boards and other surf gear.
It's a family business headed by Jeff Grygera, who has been shaping surfboards for years.
He can shape a new board or help you to repair your old one.
Surfin Fire North County Surf Lessons
Private and group lessons are available all year round with Surfin Fire.
You'll pay $100 for a 2-hour private lesson or $70 each for a group.
If you're new to surfing or need to brush up on your skills, check them out.
Fowlers Boutique
Located at 2029 San Elijo Road, Fowlers Boutique is a great little shop selling clothes and accessories.
If you need a new wardrobe or just want something to remember your trip, check them out.
Other Shapers and Shops
Surf Ride Board Shops and Mitch's Surf Shops are also located in nearby Solana Beach.
Alternatively, you can go to Bill Cilia at Nirvana Surfboards, Bob Benes at Ocean Edge Surfboards, or Cal Schafer at Zen Surfboards.
These shapers have years of experience and have worked with pros and amateurs alike in North County.
Places to Eat & Drink
After a day at the beach, you'll be hungry, thirsty, and ready for some quality fare.
Fortunately, there is no shortage of great eateries around:
Los Olas
Margarita cocktails, beer, wine, and a variety of Mexican dishes are on the menu at Los Olas.
It's a great place to grab a drink and enjoy a few quick bites.
East Coast Pizza
San Diego has a seriously underrated Pizza scene and East Coast Pizza is a prime example of that.
It offers "New York pizza without the attitude", and you can order pies or slices along with many side dishes and treats.
Fish 101
Open from Tuesday to Sunday, Fish 101 Cardiff sells fresh fish dishes with fusion flavors, including veggie curry, tuna tacos, shrimp cocktail, burrito bowls, and stacks of sides.
Pipes Cafe
The best place for a hearty breakfast, Pipes Cafe is open from 7 AM to 2 PM and sells a variety of burritos, scramblers, sandwiches, bagels, and more.
It's affordable and delicious breakfast food that will fill a hole and prepare you for the day ahead.
VG Donuts
VG Donuts stands for "Very Good Donuts", a third-generation family business selling delicious donuts, cakes, cookies, and desserts.
If you have a sweet tooth, drop by for a box.
Sambazon Acai Bowls
For something healthy, nutritious, and filling, make your own acai bowls.
You can choose from a variety of fruits, nuts, and superfood toppings and there is also kombucha and nitro coffee on the menu.
The Confessional by The Lost Abbey
The Confessional is a pet-friendly, child-friendly bar selling over 20 beers on tap.
If that's not quite your thing, there are a selection of bottles available as well.
The Kraken
The self-proclaimed "world's greatest beach bar" has been home to great beer and music since the 1970s.
Drop by for a cold beer after a long day at Cardiff Reef.
Places to Stay
You're going to need somewhere to stay and rest your weary head—and your board.
There are a couple of great options:
Cardiff by the Sea Lodge
Free parking, free Wi-Fi, and a picturesque boutique hotel, what more could you ask for? The Sea Lodge has 17 guest rooms, all individually decorated.
It's popular and it's limited, so to avoid disappointment you should contact them and book in advance.
Call (760) 944-6474 or visit CardiffLodge.com.
The Campgrounds
The San Elijo State Beach Campground has parking, restrooms, and shower facilities.
There are plenty of camping sites and it's open all year round, with most traffic arriving during the months of March and November.
Things to Do
If you find yourself in Cardiff when the surf is flat or you don't have your board, don't worry—there are other ways to kill time here.
Relax
With so much beauty to see, the best thing you can do at Cardiff is kick-back and relax.
Sure, there are a lot of tourists, but it's still a pretty laidback place to be.
Go to the Beach
Surfing is obviously one of the main draws of the area, but there's more to the beaches of Cardiff than surfing.
You can snorkel at Cardiff Reef, spend some time on the beach, or go for a swim.
There are lots of other watersports to enjoy, as well.
See the Cardiff Kook
Although the Cardiff Kook wasn't very popular when it was first erected, the many pranks have turned it into a tourist attraction.
The irony is that the backlash has probably helped to attract more tourist dollars than an immaculately designed sculpture would have done.
If you're in the area, be sure to pay the Kook a visit.
Summary: Cardiff, California
Whether you're heading to Cardiff Reef or to one of the other top surf spots, Cardiff-by-the-Sea clearly has a lot to offer surfers, bodyboarders, swimmers, and snorkelers.
It's an all-round beach vacation for people who want the thrills of watersports mixed with a laidback and relaxed lifestyle.