The Grom Life is an independent publisher. You will not find paid product promotions or sponsored content on this site. You will find affiliate links which means we may earn a commission if you purchase through these links.
Suppose a hiking adventure with beautiful views that provide outdoor enthusiasts with some much-needed solitude is what you are after. In that case, the Joseph D Grant County Park is likely the perfect destination for you. With wide-open views, exquisite wildflowers, and an abundance of wildlife, any hiker is bound to enjoy a trek through this piece of Californian beauty.
Joseph D Grant County Park is a popular spot for hiking in California. Though it does not boast mountainous views or waterfall sightings like most hiking spots in the state, it is unique in that it boasts wide open spaces with exquisite flora and fauna. Popular trails include the Grant View Loop.
It might be more common for hikers in California to search out hiking trails where epic views of mountain ranges and stunning waterfalls and forests can be found. However, those looking for more solitude might prefer something that stands out from the crowd. Joseph D Grant County Park should undoubtedly be your next hiking destination, and here's why. 
Hiking In Joseph D Grant County Park
It goes without saying that the famous state of California is a paradise destination for outdoor enthusiasts looking to experience almost every kind of topography that nature has to offer. While that is true, it is often only the parks that boast large mountains, waterfalls, and forests that end up on magazine covers and computer wallpapers. However, California has more to offer than that.
Sure, California has mountains, forests, and waterfalls – and plenty of them! But places like Joseph D Grant County Park are home to something equally special, offering a unique Californian outdoor experience. The County Park is known for its vast, wide-open spaces that give hikers a wonderful sense of solitude, freedom, and adventure.
The park has a very remote feel to it, and it boasts some of the most exquisite flora in all of California. The wildflowers, in particular, that bloom in abundance during the spring is part of what makes this spot so unique – truly, its beauty is unmatched! The oak trees are also a beautiful sight during the winter. All in all, the Joseph D Grant County Park is a stunning hiking destination.
The County Park boasts several miles of hiking trails. Hikers of any fitness and experience levels will be able to enjoy the trails here. Some are short in distance and relatively flat, while others are much longer in distance and require a lot of steeper climbs and, overall, more challenging terrain.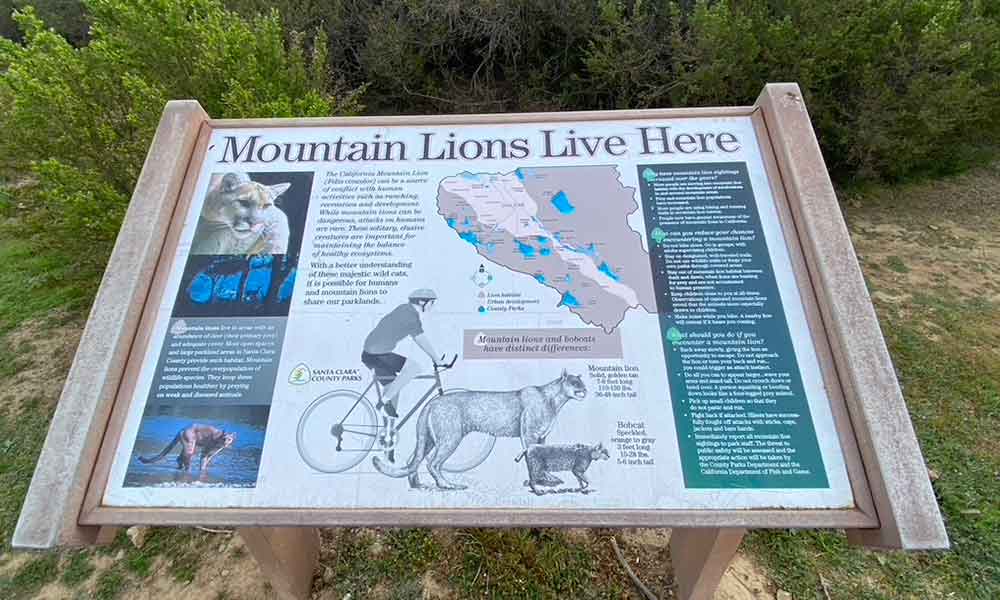 Also, the wildlife sightings here are truly spectacular. Hikers can expect to see mountain lions, coyotes, bobcats, hawks, woodpeckers, and even tarantulas – you will undoubtedly see an abundance of tarantulas during autumn when it is their mating season. Perhaps those with arachnophobia should avoid a hike here during that time!
Preparing For A Hike In Joseph D Grant County Park
As is the case for a hiking adventure anywhere in the world, ensuring that you have adequately prepared is of utmost importance. Make sure to thoroughly research any trail that you are considering to ensure that it is suitable for the hiking conditions (distance, terrain, etc.) that you are looking for. The easiest way to ruin a hike is to skip the preparation part of the adventure.
As previously mentioned, the Joseph D Grant County Park has several miles of hiking trails available, each varying in overall distance and difficulty. Make sure to choose a hike that your current fitness and physical capabilities will be able to keep up with. All of the trails here are absolutely stunning, so do not worry about missing out by having to embark on a more leisurely hike. 
Next, the time of year that you choose to go hiking at any destination should always be taken into consideration. California, in general, is known to experience blistering heat during the summer. So, if you go hiking during this time, make sure to wear light, breathable clothing, wear tons of sunscreen, and preferably a hat too. 
Every season offers unique beauty at the Joseph D Grant County Park. We would say that spring is arguably the best time to enjoy a hike here. However, fall and winter also offer a wonderful experience. Make sure to wear a good pair of hiking boots if you hike here during the winter, as the terrain is known to get very muddy and slippery. 
The Best Hiking Trails In Joseph D Grant County Park
Alright, since you are up to speed with the hiking experience in the Joseph D Grant County Park by now, you are undoubtedly bursting at the seams, waiting to find out where the best hiking trails in the park are. The park has a sheer abundance of hiking trails, and while we cannot mention them all, we will show you the best of the best trails that you do not want to pass by.
Lakeview Trail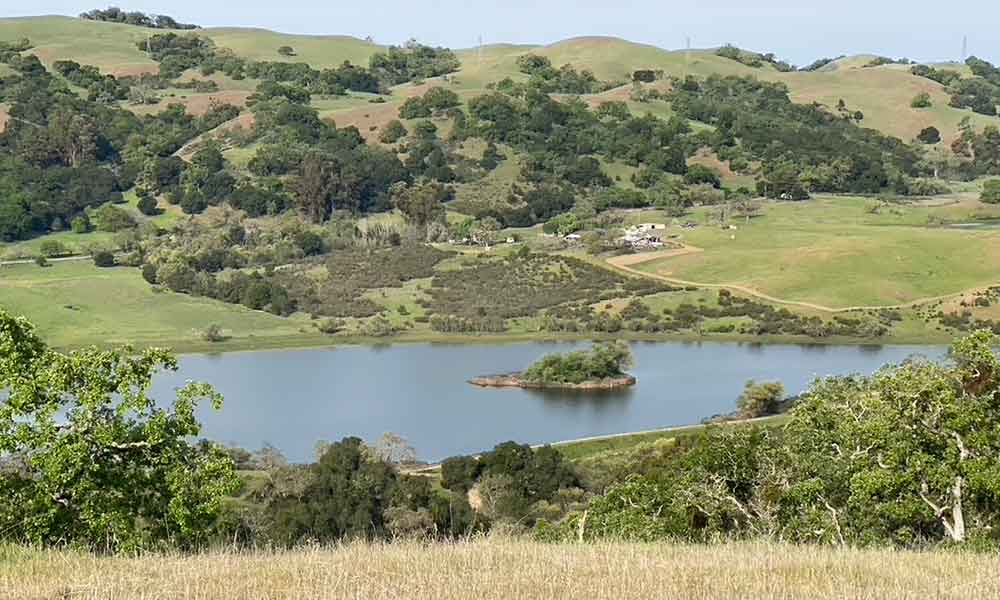 Lakeview trail is a quick trail is accessible from across the street from the main entrance Joseph D Grant County Park. The parking is free and has room for about 20 vehicles. The Lakeview Trail is fairly quick and can be done in minutes.
If you are looking for a more challenging hike keeping heading up the hill. Look for the following posts and trail names which all connect: McCreery Lake Trail to Halls Valley Trail to Los Huecos Trail. You can take the path / fire road as high as you'd like on this in-and-out trail which is easily worth a total of 2 hours of hiking time.
At 2,050 feet on Mount Hamilton you will have access to some great views.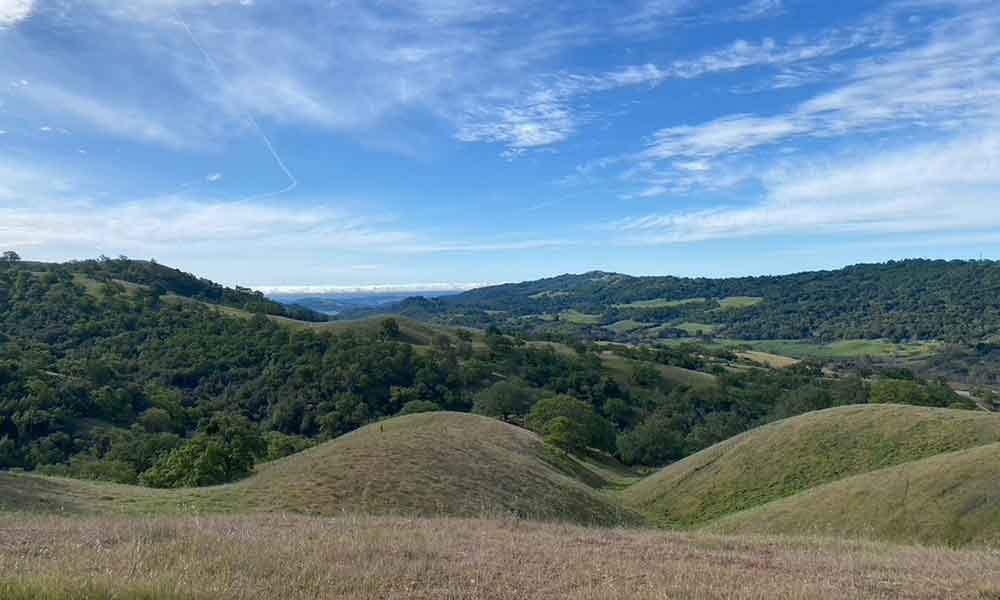 Avenue Of The Noble Giants
First on our list is the fascinatingly named hiking trail known as Avenue of The Noble Giants. The main trail is nearly 11 miles long, though it forms part of an extensive 50-mile trail system boasting a moderately challenging hiking difficulty. Here, hikers can expect very hilly terrain, trekking past tranquil creeks and soaking in breathtaking views of the lush scenery. 
While hiking here during the summer is welcomed, bear in mind that there is little to no shade, and it can get boiling here. Most hikers that have been on this trail before recommend visiting during the cooler months; however, an adventure throughout the year will be available for you. 
Yerba Buena Trail
Coming in just shy of seven miles in distance, the Yerba Buena Trail is arguably one of the most popular hiking trails in Joseph D Grant County Park. Remember those blossoming wildflowers we mentioned earlier? Well, this hiking trail is known to be one of the best parts of the park to see them in all their glory – especially during the spring months!
You will be trekking through the hilly terrain of the park and have the chance to enjoy great views of the nearby Diablo Range and the popular Mount Hamilton. Additionally, wildlife sightings are prevalent here. While hiking through the scenic, moderately challenging trails, hikers can expect to see spotted coyotes, feral pigs, turkeys, and, of course, tarantulas (again, probably not the most exciting sighting for many people!)
Grant View Loop
We have decided to save the hiking trail that offers the most amount of solitude for outdoor enthusiasts. The Grant View Loop is a roughly 5,5-mile loop trail with an easy to moderate difficulty rating. The scenery on this trail is undoubtedly some of the best in the Joseph D Grant County Park, offering hikers a tranquil experience in California's nature. 
Despite this trail's easy difficulty level and overall beauty, it surprisingly sees very little foot traffic, which is great news for hikers looking for a more secluded hiking experience. Overall, if you are looking for a tranquil hiking experience, then make sure not to pass by the Grant View Loop.
Conclusion
All in all, the Joseph D Grant County Park provides the perfect backdrop and topography for an epic hiking experience. From hilly terrain, breathtaking wildflowers, and an overall secluded experience, any hiker that visits the County Park is undoubtedly in for a treat! If the opportunity comes your way, do not pass by on a hiking experience in Joseph D Grant County Park!