The Grom Life is an independent publisher. You will not find paid product promotions or sponsored content on this site. You will find affiliate links which means we may earn a commission if you purchase through these links.
Camper van road trips are a great way to get away for a few days and create great memories.
If you add a few surfboards to the mix, you have all the makings of the perfect vacation, one where you can enjoy surf, sea, sunshine, and plenty of late-night parties with your nearest and dearest.
Preparing for a Camper Van Vacation
Before you call your friends and prepare for the trip of a lifetime, you're going to need a few essential accessories to make your vacation complete.
Portable Fire Pit + Stove
A portable fire pit that you can convert into a stove is essential for cooking and keeping you warm.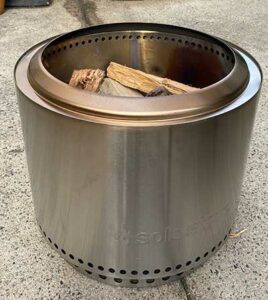 It also gives you a great excuse to spend a few hours relaxing on the beach, as opposed to spending that time cramped in the camper van.
It is relatively inexpensive, easy to use, and portable.
There are several options available, and you can find them in most outdoor supply stores and Amazon has some good fire pit options.
Headlamp
Headlamps are little flashlights that strap around your head.
The best ones are durable and water-resistant, so you can use them on the beach and keep everything well-lit.
Make sure you have a couple of these in your camper van at all times.
You never know when you'll need to venture out into the dark, at which point these little lights could be lifesavers.
First Aid Kit
Surfing is a dangerous sport, and even if you and your friends make it through without any serious issues, you may still have bumps, scrapes, and bruises to contend with.
And that's before you include the potential alcohol-related injuries you'll endure!
It helps to keep a first-aid kit on hand at all times, one that includes all the medical supplies you need to deal with an emergency.
Cooler
All of those soda cans and beer cans need to be kept cool.
Fortunately, coolers are inexpensive and while they take up quite a bit of room, they also double as chairs.
Make sure you have one of these in your camper van before you head out on your road trip.
Portable Shower
A portable shower like the RinseKit is essential for a surfing road trip.
It was designed to be used by surfers and can help them to wash all the saltwater away from themselves and their boards, but these showers are also great for general cleaning.
If you and your friends are going to be living in close proximity, portable showers can help to eradicate the inevitable stink.
Camp Chairs
Camper vans typically contain everything you need for a basic road trip, but camping chairs are rarely included on that list.
A few chairs are essential if you want to spend some time relaxing on the beach with friends.
The Best Camper Van Rental Companies
There are several camper van rental companies out there and they offer a variety of camper vans for your upcoming surfing road trip.
Make sure you browse all of the camper vans that they sell and compare these to other vans offered by the company and by alternative companies, ensuring you get the most bang for your buck.
Escape Campervans
Escape Campervans rent camper vans throughout North America and have four different models to choose from: Big Sur, Mavericks, Santa Cruz, and Jeep Camper.
It is a massively popular camper van rental company and has a wealth of experience in this field. It doesn't have the greatest variety, but there is still a little something here for everyone.
Escape Campervans was actually founded in New Zealand back in 2003, but it established itself in the United States several years later and is now one of the country's biggest camper van rental companies.
Outdoorsy
Outdoorsy lists a variety of camper vans, trailers, and RVs.
It's a marketplace and hosts listings from private owners, which means there's lots of variety and the prices also range quite considerably.
It also means that you can find camper van rentals that are pet-friendly, family-friendly, and within your price range.
Lost Campers
Lost Campers is a family-owned business that launched in 2007 and has locations in Los Angeles, San Francisco, and Salt Lake City.
It's one of the cheapest camper van rental companies on this list, and it prides itself on that fact, positioning itself as a budget option.
With Lost Campers, you can rent a camper van for less than $90 a night.
The Wanderer, for instance, is available for just $83 a night and sleeps two people.
It's not huge, and it may be a little on the small side for some surfing road trips, but at $83 a night, you can't complain!
Vintage Surfari Wagons
Based in Costa Mesa, California, Vintage Surfari Wagons rents restored VW camper vans from the 1970s and 1980s, making for a vintage road trip.
You can rent a camper van that sleeps four people for less than $170 a night and this option includes a stove and icebox, so you'll save money on those essentials as well.
Jucy RV
Just like Escape Campervans, Jucy RV comes to us from New Zealand.
The camper van rental company has several locations in the US and Canada, including Los Angeles, San Francisco, Vancouver, and Las Vegas.
The Jucy Wavefarer Dodge is one of the best options and is also very affordable, making for the perfect surf van.
It sleeps two people but there is a pop-top on the roof available for an additional two people.
How Much Do Camper Van Rentals Cost?
It depends on the size of the van and the amenities that it provides.
At the lower end, you can expect to pay between $100 to $150 a night, but this increases significantly if you opt for bigger camper van rentals and focus on more luxurious features.
On the flip side, you can reduce the price by booking for longer periods of time.
What is the Best Road Trip Van?
The Mercedes-Benz Sprinter is one of the best camper vans for a road trip.
It's reliable, comfortable, and comes with a few essential features.
The Winnebago Revel is also worth looking into.
Generally, however, there is no "best camper van rental", only the best one for you.
Because if it doesn't have the features you need and/or falls outside of your budget, it's a no-go.
That's why camper van rental companies like Outdoorsy are so important, as they give you a wide choice of vans to peruse and you're always guaranteed to find the most suitable one.