The Grom Life is an independent publisher. You will not find paid product promotions or sponsored content on this site. You will find affiliate links which means we may earn a commission if you purchase through these links.
"We're going to Surf City!" Those words can spark a lot of confusion, and maybe even an argument or two.
Surf City, USA could be Huntington Beach, California or Santa Cruz, depending upon who you ask. 
So what is considered the real Surf City? Let's look at the history of this nickname and why it's so divisive in some circles. 
What is the Real Surf City?
Huntington Beach and Santa Cruz are both well-known for their culture of surfing and watersports.
For that reason, both have claimed the nickname "Surf City" at various points in the past. 
That, almost unbelievable, led to a bit of a trademark dispute in the early 2000s.
While both towns had, for years, both peacefully used the nickname to describe their region, it was in 2004 that Huntington Beach took it a step further: they filed a trademark with the US Patent and Trademark Office.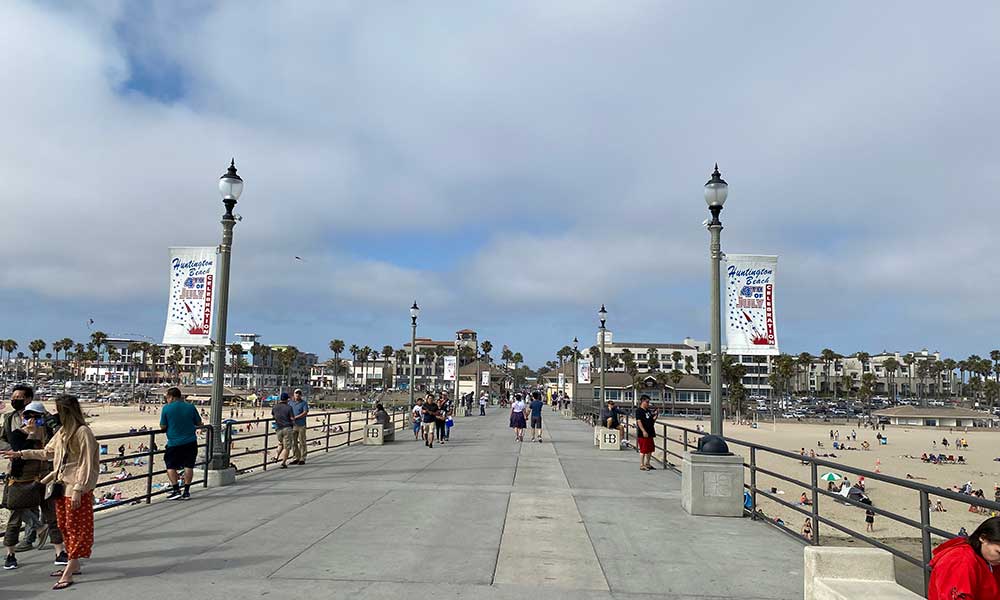 As you can imagine, the town of Santa Cruz was a little nonplussed by this maneuver, especially as their location was the first recorded site of surfing in California.
The little town boasts a surfing museum, several international surf competitions, and has an all-around reputation for being a Surf City if not thee Surf City.
So Santa Cruz filed an appeal in an attempt to claim the title for itself. 
Today, Huntington Beach is the "official" Surf City.
However, if you ask the residents of Santa Cruz, they'll likely tell you differently.
After all, the town has been using the nickname since 1927; it's only been officially used by Huntington Beach since 1990.
Surfing The Pier at Huntington Beach, CA
Is Huntington Beach good for surfing?
There is a reason why Huntington Beach, California is the official "Surf City USA".
It has 10 miles of surfable coast that offers up surf year round. You can find more about Surf City USA here.
Is Huntington Beach good for beginner surfers?
Huntington Beach Cliffs is a good bet for beginner surfers.
The wave is soft and slow and you can surf a shortboard or a longboard. You can find a lesson or rent surfing gear at Corky Carroll's Surf School.
Surfing Santa Cruz
What is Santa Cruz best known for?
Santa Cruz, California is known for being a Californian beach town where you can get your fix of sun, sand, surf and fun on the boardwalk.
Seasoned surfers can try their luck at Steamer Lane while newbie surfers will find more appropriate surf with all of the longboarders at Cowell's beach.
Head to Cowell's Beach Surf Shop for surfboard lessons and rentals.
How big are the waves in Santa Cruz?
The surf in Santa Cruz can get well overhead reaching 10 feet and bigger easily in the wintertime when the north swells arrive.
Bring your A-game if you plan to surf Santa Cruz no matter the conditions as the waves are good and the local surfers dominate the line up.
Is Santa Cruz Safe?
Santa Cruz has a high cost of living being in the Bay Area but has relatively low incomes as agriculture and hospitality make up a good portion of the jobs in the area.
As a result, there is economic stressors that contribute to a higher crime rate in Santa Cruz compared to other beach towns in California to the tune of 39 of 1,000 residents experiencing crime each year.
Santa Cruz is generally considered a safe place to visit for tourists.
Car theft is reportedly the common crime problem that impact tourists.
Other Surf Cities in the United States (and beyond!)
It should come as no surprise that there are quite a few places in the United States called Surf City.
In fact, it's the official name of several towns across the country. 
Surf City, New Jersey
Surf City, New Jersey is a favorite destination for mid-Atlantic vacationers.
It's a part of Long Beach Island, and is host to yacht clubs, casinos, dining, and plenty of entertainment for the kids to enjoy.
The beaches in Surf City, New Jersey may not boast the high-crested waves in California, but it's still a popular spot for surfers to catch a wave. 
Does Surf City NJ have a boardwalk?
No, Surf City, New Jersey does not have a boardwalk and since the town is but a quarter of a mile wide it doesn't have much else in the way of entertainment which is part of its appeal.
It's a great place to catch a surf and just be quiet. You can find out more about Surf City, NJ on The LBI Chamber of Commerce website.
Surf City, North Carolina
Surf City, North Carolina is another hotspot for summer vacationers.
It's located on Topsail Island, a 26-mile long barrier island that is notoriously quiet and affluent part of the state.
Close to the University of North Carolina at Wilmington, you'll frequently find college "kids" catching waves in this small area of the island. 
Is Surf City NC in the Outer Banks?
Surf City, NC is not on the Outer Banks (OBX). It is located on Topsail Island which is south of the Outer Banks.
Is Surf City NC good for surfing?
Surf City, North Carolina is situated in a bay on an island.
There is typically some amount of surf somewhere on the island.
If there is too much wind up north, there is a chance the that the surf will be better south.
The beaches here are beach breaks with sandy bottoms and waves break in shallow water.
The Surf City pier has some of the best surf in town.
Surf City, El Salvador
Surf City in El Salvador is home to long pointbreaks.
There are plenty of surf camps in El Salvador.
Considering that the country is one of the poorest in the western hemisphere and the country has a reputation for violence you may want to consider using one of the surf camps or surf tours like AST Adventures instead of going it alone.
How tall are the waves in El Salvador?
The surf in El Salvador can be double over head and up to 12 feet.
There are smaller surf breaks for less experienced surfers.
When is the best time to surf in El Salvador?
The surf season in El Salvador is from March to October during the rainy season.
This is when the southern swell produces waves up to 12 feet.
There is surf outside of March to October as well but the surf is smaller and can be less consistent.
Summary: Surf City Tourism
Surf City, USA is officially trademarked to Huntington Beach, California.
However, Santa Cruz residents don't necessarily see it that way.
Then again, Surf City, North Carolina and Surf City, New Jersey residents may take issue with that moniker as well. 
So, what is the real Surf City? Frankly, it depends upon who you ask.