The Grom Life is an independent publisher. You will not find paid product promotions or sponsored content on this site. You will find affiliate links which means we may earn a commission if you purchase through these links.
Situated in California along the coast of the Pacific Ocean, San Diego is known for its world-class beaches and warm weather. Consequently, San Diego is a favorite destination for hikers looking for a city that provides the dichotomy of urban living with beach and coastal trails. So which are the best beach and coastal hiking trails in San Diego?
Twelve of the best beach and coastal hikes in San Diego are:
Torrey Pines
Sunset Cliffs
Ocean Front
Tijuana Estuary
Swami's Beach
Annie's Canyon
Batiquitos Lagoon
Border Field State Park
San Onofre Beach
Moonlight Beach
Ho Chi Minh
 Cabrillo National Monument  
Since most of these hiking trails are considered accessible to moderately complex, they are some of the best and most accessible trails in San Diego while sporting various landscapes to explore across the coastline. Let's explore these trails in detail below:
The Twelve Best Coastal & Beach Hikes In San Diego
Although San Diego has many hikes, including many famous beach and coastal hikes, the following twelve hikes illustrate the diversity offered to both new and experienced hikers. We also have a list of easy hikes in San Diego.
1. Torrey Pines in La Jolla, CA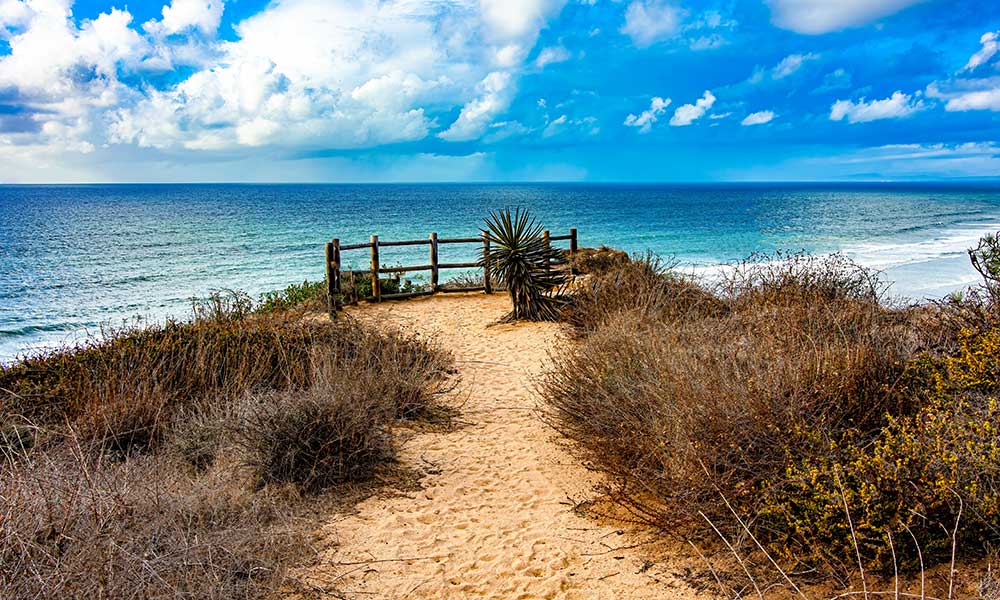 A picture of the lookout at Razor Point at Torrey Pines in La Jolla, CA.
There are multiple lookouts at Torrey Pine. Each one offers views of the Pacific Ocean.
Named after the pine trees that dot this nature reserve's landscape, Torrey Pines State Reserve is host to various hiking trails that showcase San Diego's coastline and interiors.
Some of the best trails include the Guy Fleming Trail, the Razor Point Trail, and Hill Trail Loop, most of which are relatively easy and provide sweeping views and access to the Torrey Pines State Beach.
2. Sunset Cliffs in Point Loma, California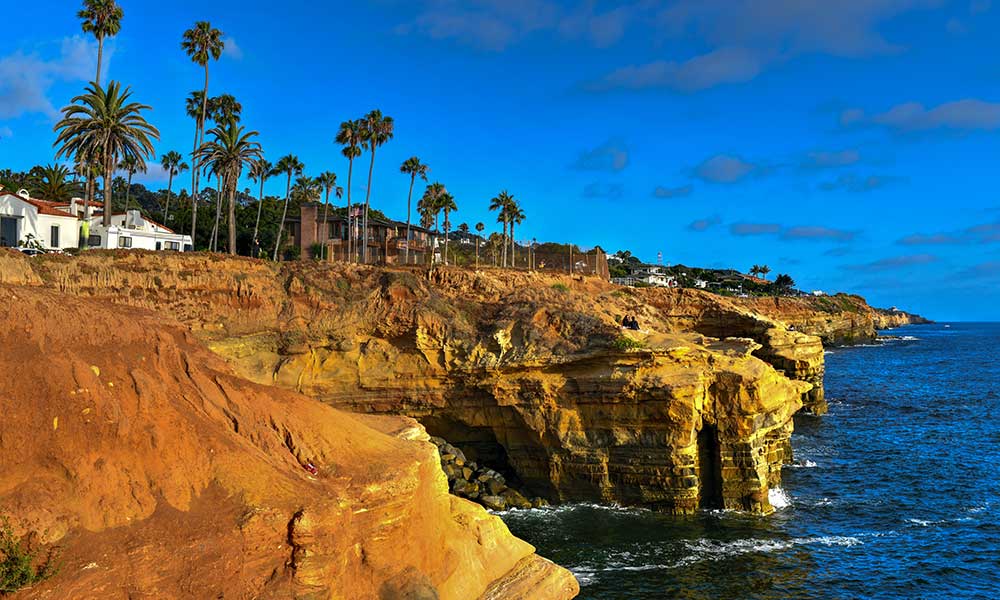 A picture of Sunset Cliffs, CA.
You can walk the cliff and explore the caves & tide pools at low tide.
Located along the coast of Point Loma, Sunset Cliffs trail is an easy 2-mile hike that leads hikers along a maintained footpath through Sunset Cliffs Blvd. and into the Sunset Cliff Natural Park.
Hikers can follow the path for approximately a quarter of a mile for views of the Point Loma coastline, or they can follow the Spurs trail for a similar distance to access the beach below.
3. Ocean Front Boardwalk in South Mission Beach Park, CA
Situated at the South Mission Beach Park, the Ocean Front Boardwalk is a paved boardwalk path that hugs the Pacific coastline for approximately 5 miles.
Due to its continued maintenance and flat elevation, the Ocean Front Boardwalk is accessible for wheelchairs and strollers, meaning people of all ages and abilities can enjoy this trail with friends and family!
4. Tijuana Estuary in Imperial Beach, California
Situated near the Mexican border, Tijuana Estuary is a coastal wetland that is home to various plants and animals and a diverse ecosystem of salt marshes, coastal sage scrub, and sand dunes.
With many routes to choose from, a popular trail Tower Road in Imperial Beach follows the River Mouth Trail to the beach overlook and then ends your hike at the South McCoy Trail. Approximately 2.5 miles long with low elevation, this accessible route showcases the many biomes of San Diego.
5. Swami's Beach in Encinitas, CA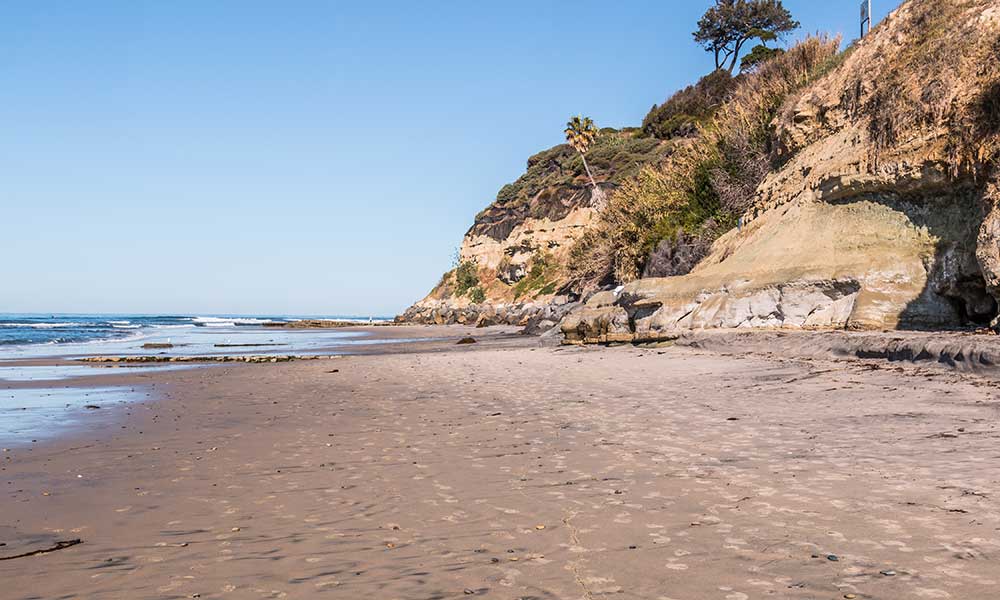 A picture of Swami's Beach in Encinitas, CA.
You can walk or ride your beach bike south to Cardiff-by-the-Sea or north to Moonlight Beach at low tide.
Some of the best coastal hikes involve beach-to-beach routes, with the three-mile hike from Swami's Beach to Cardiff Beach being among one of the best examples of a beach to beach hike in San Diego.
Although the majority of the hike follows the beach sand, there is a small detour through a cliffside hike with hand railings to assist beach walkers who may not be used to traversing cliff faces.
6. Annie's Canyon in Solana Beach, CA
Named after a Solana Beach resident and conservationist of the same name, Annie's Canyon is a sandstone corridor sculpted by seawater over millennia, with a sandy footing to help hikers traverse deep, mysterious walls.
Whether you hike through switchbacks or choose the winding path to the overlook, the views offered along the quarter-mile loop trail of the ocean and San Elijo Lagoon are spectacular!
7. Batiquitos Lagoon in Carlsbad, California
Similar to Tijuana Estuary, Batiquitos Lagoon is another coastal wetland teaming with various animals and plant life. At 3.2 miles and a maintained trail with minimal elevation, Batiquitos Lagoon is accessible for strollers and wheelchairs.
Batiquitos Lagoon also offers visitors guided walks to educate hikers on the ecology of the coastal wetland and acting as a guide for keen birdwatchers.
8. Border Field State Park in Imperial Beach, CA
Stretching from the Mexican border into the California coastline, Border Field State Park has a network of horse and hiking trails that expand across Southern California's coastal wetland.
Furthermore, the park meets the mouth of the Tijuana River, allowing access to the Tijuana River National Estuarine Research Reserve for more experienced hikers looking to expand their trails into saltwater marshes.
9. San Onofre State Beach in San Clemente, CA
For those looking for a trail off the beaten track, San Onofre State Beach in the northern boundary of San Diego County is the perfect place for solitude and untamed hiking trails.
Although the lack of distinguished, maintained footpaths make this a hike for more experienced hikers, the presence of Camp Pendleton means San Onofre State Beach is closely monitored, underdeveloped, and unspoiled.
10. Moonlight Beach in Encinitas, CA
Another example of an excellent beach-to-beach trail is the hike from Moonlight Beach in Encinitas and onto Beacon's Beach in Leucadia.
Unlike the Swami's Beach to Cardiff Beach hike, this trail follows the cliff along the coastline, offering sweeping panoramic views of the ocean and sandy beaches below for approximately 1.4 miles.
11. Ho Chi Minh in La Jolla, CA
Tucked away in the La Jolla neighborhood, the Ho Chi Minh trail is a little-known hike through sandstone caves that lead towards Black's Beach for approximately 2.4 miles.
Due to its rugged landscape and relative obscurity in a residential area, the lack of a designated, maintained trail means this trail is best attempted by intermediate hikers.
12. Cabrillo National Monument at The Southern Tip of the Point Loma Peninsula
Situated in Point Loma and named after Juan Rodriguez Cabrillo, this national park is known for its tide pools and the Bayside Trail.
While the tide pools make for great spots to observe marine wildlife at your leisure, the Bayside trail is an easy 2–mile hike that offers hikers of all abilities the opportunity to catch views of San Diego Bay, Coronado, and downtown San Diego.
Conclusion
Whether you are a seasoned hiker or a novice explorer, San Diego offers some of the best coastline and beach trails along the Pacific coastline for you to explore at your leisure!