The Grom Life is an independent publisher. You will not find paid product promotions or sponsored content on this site. You will find affiliate links which means we may earn a commission if you purchase through these links.
What is so different about Surfline Premium? And is it worth paying for? I mean, it used to be free, right. Well things change, friend, and paying for Surfline is one of them.
Yes, we were disappointed that Surfline went from free to paid after all those years. Did we complain and resist? Yes. Did we finally give in and get Surfline Premium? We did, and we are happy that we did.
When it comes right down to it, you need to ask yourself, will paying for Surfline Premium make life better? Will you surf more? That's really the goal.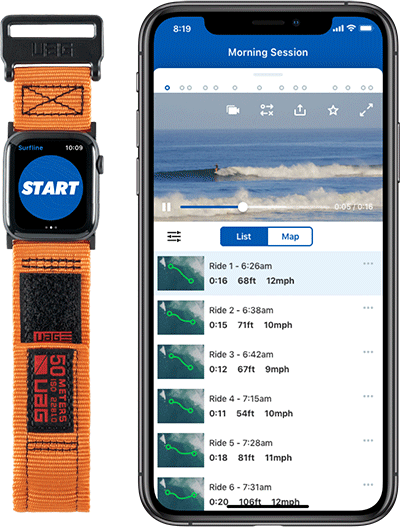 Find Better Waves
At the end of the day, what you are really looking for is the best possible surf which means breaking waves at a specific location that can be surfed. To find this, you need information about each swell that is occurring in real time and in every part of the world if you want a global forecast.
What you can easily get for free is global swell data that is offered by NOAA for free. Most free apps use this data that is based on "Significant Wave Heights data." This is calculated using estimates of one third of the highest waves at a specific location. It does not take into consideration each individual swell that is needed to accurately calculate surf.
This is not to poo-poo "Significant Wave Heights" but Surfline offers information on how much wave energy will actually get to specific onshore locations. This makes it a better predictor of ridable surf.
For Surfline to achieve this, it runs five different wave models in-house for validation and comparisons. This also includes monitoring swell heights, wind speeds, and buoy information extensively and using this for making surf calculations.
A team of surf experts (that's a job and is another thing your career counselor failed to mention) is involved in creating these models that are used in forecasting. And best of all, they do this 24/7, 365 days a year.
Paying for expertise, we think, makes it worth a premium tag, doesn't it?
What is Surfline?
Maybe you click on the camera, but don't much more about Surfline beyond that. Well…
Surfline offers services in surf forecasting and surf reports, surf photography and videography, as well as covering surfing news globally. Surfline works with a team of meteorologists to produce accurate daily surf reports, swell analysis, and weather forecasts for thousands of surfing spot from around the world.
They also provide detailed daily surfing news, travel, and surfing education multiple times each day.
What is Surfline Premium?
This is a premium service that is offered by Surfline at a cost. It allows users to enjoy accurate surf reports that are updated multiple times a day.
Unlike free reports, premium goes the extra length to calculate surf from individual swells and gives accurate predictions.
How much does Surfline Premium cost?
Subscription to Surfline Premium costs $95 annually or $7.99 a month. That is about how much you would be parting with for a premium cup of coffee at Starbucks. Student accounts get a 50% discount.
You can pay for a monthly or yearly subscription and the payment will be charged to your iTunes account. The subscription is renewed automatically before it expires, unless it is turned off.
Reduce the caffeine jitters, reduce your coffee spend and reallocate a few bucks to Surfline. Be caffeinated and surfer better waves.
What you get with Surfline Premium
Surfline premium has several benefits that make it worth every dime. Below is a breakdown of the unique features that come with this subscription and app.
Over 500 Cams with a Network of Premium HD Cams
Surfline Premium offers over 500 cams globally with streaming technology and a 99% uptime that allow you to view live surf conditions from around the globe. The cameras are monitored 24/7, 365 days a year.
Should the cameras go down at any point a team of technicians will do everything that is humanly possible to get them up and running in no time. This usually does not take more than 72 hours tops.
The cameras have a rewind feature that allows users to go back up to five days and view recorded files which can be saved or shared with friends. Ever been surfing and you see a shark breach?
Well you can rewind the cam and see that for a second time at a safer distance. We've done that (really). That pays for a whole year of Surfline in one single jumping shark.
Expert Surf Forecasts
Surfline works with trained forecasters and meteorologists who analyze conditions to create detailed surf reports that are presented to users. The team of exerts give analyzed real time reports several times in a day that are used in creating forecast reports.
Additional reports are issued when there is a major swell. Different models are used to come up with accurate predictions on surf.
Currently they are working on a model that will allow them to include morning and evening 14-day forecasts which will also include rich images and videos. These changes will help them to quickly adapt to fluctuating conditions.
Need to plan a meeting but want to not miss a good surf? Look at the forecast. Looking to ditch first period for the offshores (be cool, stay in school kids), look at the extended surf report.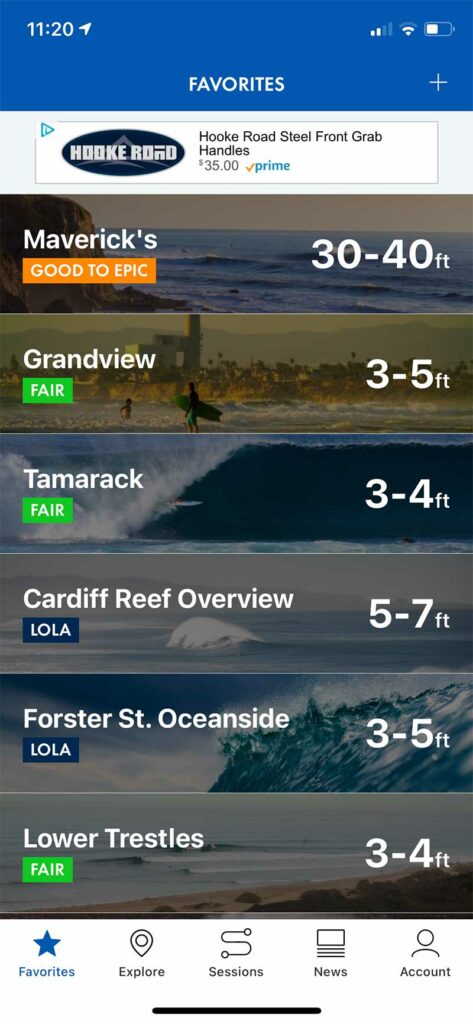 LOLA Wave Model
This allows Surfline to provide enhanced real breaking-wave information at popular worldwide surf spots which is generated from an in-house wind-wave generation and nearshore wave transformation physics.
This is a proprietary feature that allows Surfline to produce fine-tuned forecast reports. This is based on an extensive study of swell events from satellite and real- time buoy observations. The system collects satellite data and compares it with what is happening in reality.
LOLA has a swell sorting algorithm that helps surfers determine the swells that are moving towards them versus those that are moving away from them. This shows you the swells that you should be paying attention to.
Surfline Sessions
This allows users to record their surfing sessions every time that they ride in front of a Surfline camera. The video is then sent to your phone that is compatible such as an Apple Watch, Rip Curl watch or Garmin watch.
You can download your ride and share it with friends. You can also analyze your surf sessions in terms of the number of waves that you have ridden, your maximum speed, and your longest ride.
You will also be able to favorite surf spots and swell forecasts in one place where you will be able to access them easily. We got nerdy, bought an Apple Watch and are very satisfied with the results. We highly recommend Surfline Sessions.
Cam Rewind
This feature allows you to rewind files, download them and share them with your friends. Rewind files are available up to 5 days.
Long Range Swell Forecasts
Surfline provides long range swell forecast for over 3,000 breaks in different parts of the globe. This helps surfers to perfectly time their surfs. Premium subscribers enjoy a 17-day forecast that is updated daily.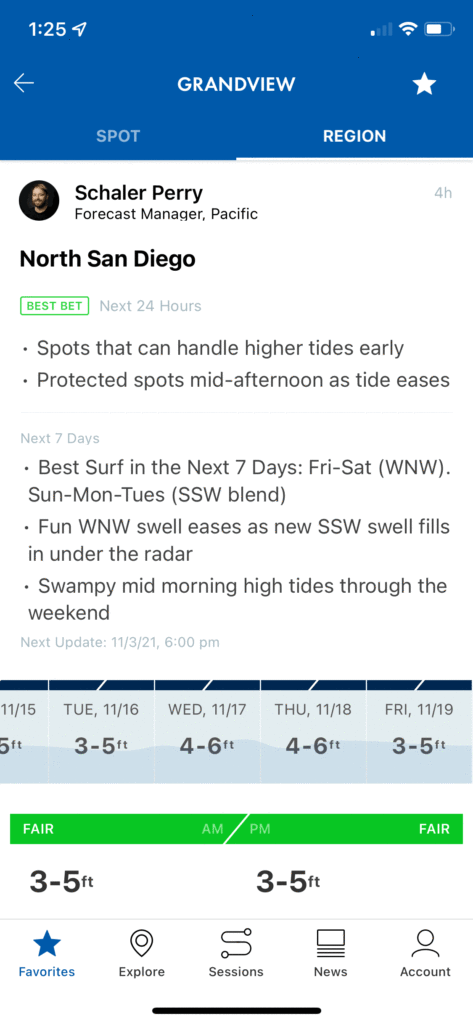 Surfline Swell Alerts
Swell alerts will help keep you on your toes so you don't miss the next epic swell to hit your home break or if you just want to know what the wave energy is doing across the Pacific Ocean.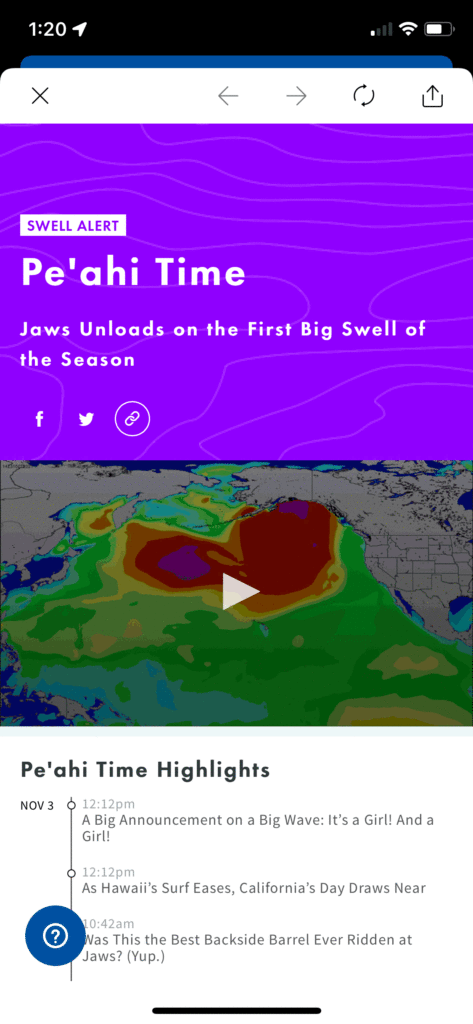 Surfline Premium Mobile App
You can download the Surfline app from Apple Playstore.
For premium users there are no ads that feature in the app. It works on Apple, Rip Curl, as well as Garmin watches.
Yep, ad-free cameras. No more refreshing hoping you don't get another lull.
Surfline Premium with Perks
Surfline Premium with perks allows users to access over 600 live streaming HD surfing cams that allow users to watch surf conditions in real time and ad free.
This covers the best surfing spots such as Pipeline, Waimea Bay, Teahupoo and Uluwatu. The videos are in high resolution and are recorded using premium cams at iconic breaks like Lower Trestles.
Premium Member Discounts
Surfline Premium allows members to enjoy discounts at select surf shops and surf destinations. This includes discounts on gear such as surfboards, wetsuits, as well as trips.
Premium members can earn up to 40% discount on surfboards, wetsuits, and other surf gear from top brands such as Vissla and Reef. The Premium Perks homepage lists all the stores where you can get special offers and you can generate a code which will be valid for up to 30 days.
With a few purchases you can recoup your whole subscription. Additionally, Premium members enjoy 40% discounts on Great Breaks surf photography as well as a free rental from surf cinema.
This wraps up our take on is Surfline Premium. Is it worth it? We think so.
More About Surf Tech